"You are accountable for your goals, not your dreams and it is the fear of being accountable that keeps some things in the realm of the dreamland" — HarshaBhogle
Every year on the lush green campus of IMT Ghaziabad, descend the doers, with the advent of spring, as the trees shed their yellow leaves, leaving all inhibitions behind, the teams from IIMs, FMS, IIFT and all leading b-schools of India clash to become the Champions of the Olympics of B-schools, CHAKRAVYUH.

The greatest war on the Indian subcontinent was the Mahabharata where the greatest warriors clashed. The legend of Abhimanyu who broke the Chakravyuh is still alive in the heart and minds of the masses. Chakravyuh IMT Ghaziabad celebrates the warrior spirit of the budding managers, the winning strategies they make, on and off the field, the indomitable courage and strength and their strong will that stands through the test of time as they create history. Chakravyuh boasts of a rich legacy of extraordinary sportsperson in their own regard, christened Abhimanyu, the true winner in all sports, the true all-rounder, the complete player.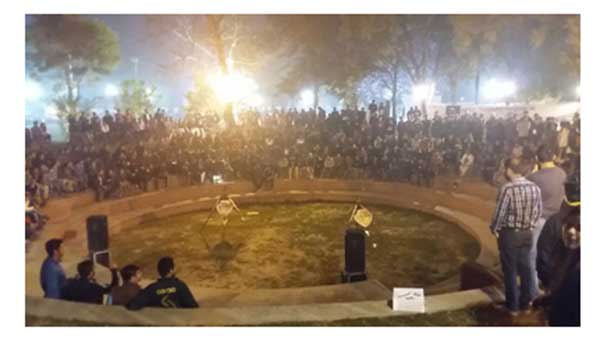 Chakravyuh IMT Ghaziabad witnesses a mega footfall of 8000+ participants and spectators, celebrity guests like the South African legend Mr. Jonty Rhodes and the ICC Cricket World Cup winning Indian cricketer Mr. Piyush Chawla, cultural performances and laser shows providing 72 hours of non-stop, adrenaline pumping action. Biggest brands like Fastrack, Zebronics, Relaxo and State Bank Of India have partnered with Sports Committee of IMT Ghaziabad for this mega event. The build up to Chakravyuh sees a string of exciting challenges and competitions, The Wolf Pack Challenge, The Best Marketing Team Challenge, Chakravyuh Fantasy League and the Minute to Minute Challenge that gives its participants a feel into the biggest B-School extravaganza. Coupled with exciting gifts and prizes, an exciting experience is in the offering for all the participants.
The legacy of this mecca of sports fest gets grander every year, this Chakravyuh celebrates the spirit of the wild, the call to unleash the beast within, listen to your inner call, the spirit of Chakravyuh. Mark your calendars as 8-11 February 2018 are the dates when the entire fraternity is going to be in IMT Ghaziabad to answer the Call of the Wild, will you?