In the era of Social Media, news runs like wildfire in the whole world.
Well, all thanks to Internet! In today's time when news just travels fast right from Twitter to Facebook; it just has to go on the net and the rest of the part is done. Today people express their emotions, whether happy or sad, through social media. And how can we forget about the great verbal fights that just spark up the controversy? There was a media when General V.K Singh gave some not-so-decent remarks about them. Looking up for some more, we have the most talked about Twitter battles that took place in 2015 till now.
Having a look at them, you will surely come to know that this micro-blogging site has many a times turned into a boxing arena!
General V.K. Singh's Remark on the Media of the Country
It created havoc in the Indian media when General V.K. Singh, Cabinet Minister of State for External Affairs, called the press as Presstitutes, a word similar to prostitutes!
If simple remark that media finds Yemen less exciting than my attending PAK day is contorted out of shape then SOS GOD #Pressititutes

— Vijay Kumar Singh (@Gen_VKSingh) April 8, 2015
Ashok Pandit Advising Karan Johar
The much talked about AIB roast has zillions of controversies associated to it. The fight went on so bad that finally AIB had to take down the video. Adding some more fire to the controversy, there was Ashok Pandit to comment on Karan Johar's act.

Rishi Kapoor's Tweet on Beef Ban
When the veteran actor tweeted his view on the micro-blogging site on the Beef Ban in Maharashtra, every person criticised him for whatever he said. Since the episode, he has said that his tweet was misread by number of people.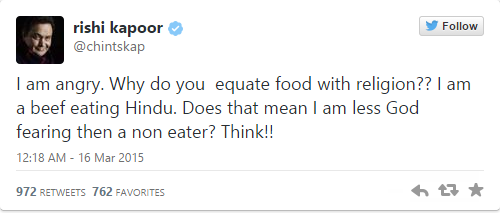 When Shobhaa De Voiced against the Maharashtra Government
In the recent controversy, Shobhaa De voiced against the Maharashtra Government against the beef ban as well as showing the Marathi movies in all the multiplexes of Maharashtra during prime time. She even called the Chief Minister of Maharashtra as Devendra 'Diktatwala' Fadnavis. After this tweet, Shiv Sena people protested against her at her residence in Mumbai.
Devendra 'Diktatwala' Fadnavis is at it again!!!From beef to movies. This is not the Maharashtra we all love! Nako!Nako! Yeh sab roko!

— Shobhaa De (@DeShobhaa) April 7, 2015
These tweets actually rocked the nation making some room for a lot of twitter controversies in 2015 until now.