5 Camera Phone – Phone with 5 cameras – Today we cannot imagine our lives without a smartphone, can you?
There is a tremendous competition in the market of smartphones.
Companies are launching new models of smartphones with more advanced features every now and then. In this age of technology, phones are not just limited to a device which you can use to talk to other but it has become much more advanced. Phones have become the easiest medium to connect with one another, you can call or text anyone anytime from anywhere, this is not it smartphones even have replaced other gadgets which once used to be critical to us such as a calculator, torch, watch, camera etc.
In addition to these basic features, the smartphone companies are coming up with new features every day!
Well! let us talk about the camera and technologies a bit more. Generally, there are two cameras in the smartphones: rear and front. Smartphones having two cameras are pretty normal for us as we have been using them for quite a long time but you'll be shocked to hear that Nokia is bringing a 5 Camera Phone.
Since recently the new smartphone by Nokia: 'Nokia 9' has been already leaked to social media, it has become the subject of discussion among people.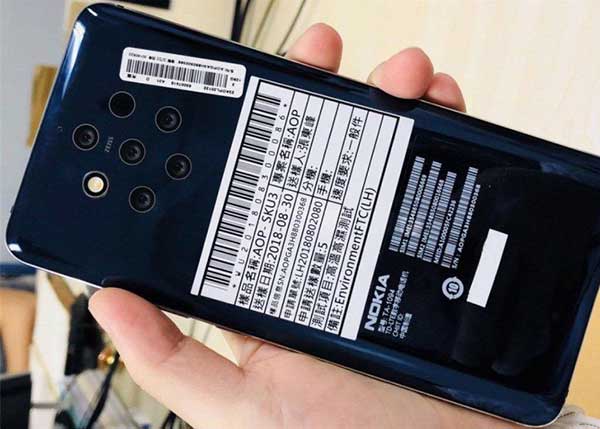 People are talking various things about Nokia 9. HMD Global is working on a new flagship smartphone for Nokia. Looking at the leaked photo, we can say the phone will be launched in the market with a Pentax Lenses setup. The photo that is being shared on social media is also seen giving a hint about 5 cameras, yes there are 6 holes on the back panel with a flash. The 5 Camera Phone, The brand name: Zeiss, also appears in the photograph. It shows that three cameras are vertical whole two are placed below, Nokia and Android's logos are also visible in the leaked photograph.
Wow! Nokia's upcoming flagship device with Penta- Camera Zeiss setup has been leaked by ithome china! What could it be? Nokia 9 or 10 or maybe something totally different? We'll have to wait and watch!#Nokia#Nokia9#Nokia10 pic.twitter.com/QHzSq4V9ce

— Ishan Agarwal (@ishanagarwal24) September 6, 2018
However, the front panel of the phone is still a suspense as the leaked photos show only the back panel. We have seen all the pictures and we found that only the back panel is visible. It is being told that the Penta Lens setup captures the photo while roaming around the optical setup.
Let's tell you that Huawei's P20 Pro have three cameras. At the same time, if reports are to be believed then Samsung and LG can also bring 5 Camera Phone models by next year. It is being said that this leaked version of Nokia has 41 megapixels and 20 megapixels as well as three sensors of 10 megapixels.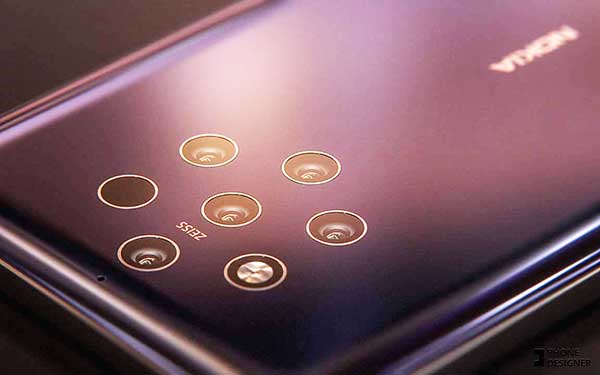 Experts believe that the phone will be launched on the market with 8 GB RAM, 256 GB of storage and the battery will be approximately 3900 mAh. Another amazing feature of this phone will be an in-glass fingerprint sensor, it will be an IP68-certified phone. The first photo of Nokia 9 was leaked on a Chinese website and by now it has spread on all social media platform. Lastly, experts say that the phone will have a wireless charging feature.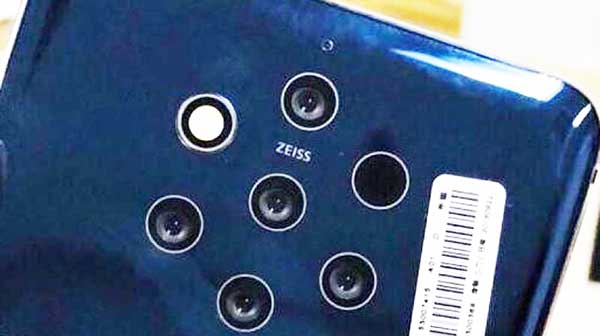 Now the exact features and specifications of the 5 Camera Phone will be clear after its launch, but its 5 camera feature is going to be its centre of attraction.