Vegetarian living with non vegetarian – The eternal battle between vegetarians and non-vegetarians in India is one that has never gone unnoticed. Go through this checklist to find out how similar is your experience to other vegetarians.
Have you ever been pestered into trying a new chicken dish or intentionally given a piece of cake to you that is not eggless?
You are continuously teased by your friends who believe that you eat 'ghaas phoos'.
Well, your plight is certainly commonplace especially in India where finding delectable vegetarian dishes in a restaurant is like looking for diamonds in a pile of coal.
Living amid hard-core meat lovers while you opt to stay away from animal food is certainly one-of-a-kind experience that only vegetarians can relate to.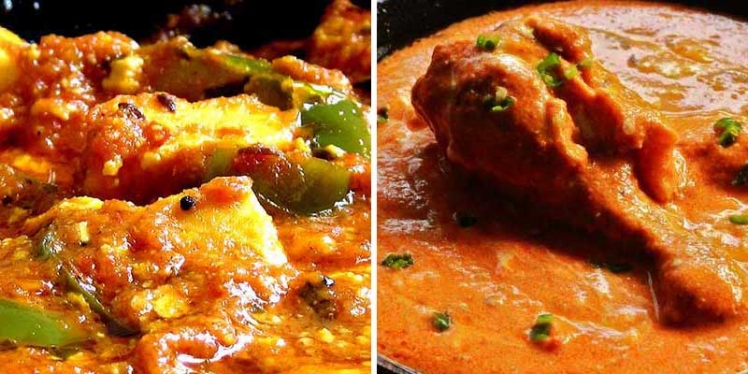 Here are some ways your diehard chicken-loving friends often treat you:
Reactions of Disbelief:
They do not believe you when you say that you have never eaten any animal food. They are awestruck to know that you belong to the strictly vegetarian category. Yeah! That is true. You are categorised in a certain bracket of people who probably, do not like enjoying their lives as much. They may hang out with you with the purpose of making you realize how good chicken tastes. Just as humans will not grow paws and claws in the company of animals, you will not start eating them either in the company of fellow animal eaters.
Feeling Sorry For You And Your Food Choices:
The non-veg eaters keep insisting that you have been missing out on some of the richest and tastiest delicacies in the world. If it would have been for them, then they would have developed your taste buds so that you feel the temptation to bite into the chicken leg piece. They would pester you by asking how is it that the chicken dish in front of you does not attract your attention.
Gravy Time:
If you cannot have the chicken, you may as well have the gravy. This is what the masahaaris would claim as if they know your supposed inherent weakness for gravies.
Vegetarian family a shocker:
They would look for excuses not to visit your place when they come to know that nobody in your family eats animal food. They might pity your family as much as they pity you. If you or some of your family members are found to be skinny, then lack of proteins is the culprit according to them.
Paneer and Soya, the new replacements for chicken:
For meat-lovers, you thrive only on paneer and soya. So, those may well taste like chicken to you. Or who knows they might even order mushroom for you some day and ask you to fantasize a boneless chicken in place of it.
Money-saving tactics:
you must have heard your non-veg eating friends crack jokes at your expense in a restaurant, saying that you have to pay the least amount. You are simply saving on your cash by ordering vegetarian food. Some of your friends might even try vegetarian dishes when they are broke or explain their judgements about you with their looks while you struggle to find vegetarian food options in the menu.
Vegetarian or Ovo-Vegetarian?
When your non-veg eating friends come to know your preference for something vegetarian, they might try to train your brain to think eggs are a part of vegetarian food and that you can simply gobble on eggs without an inkling of doubt.
What after marriage?
You may have been asked this question several times that what will you do if you are married to someone who eats non-vegetarian dishes religiously.
How will you survive abroad?
Just in case you are planning to go abroad, your friends will get another opportunity to pull your leg and will keep on asking you where will you find shahi paneer and soya keema.
Moment of Despair:
Imagine the time when you saw your friends gulping an entire chicken lollipop in minutes, and got confused as to whether you should share the rice with him/her in the same plate or ask the waiter to bring a small plate for you.
Plants Have Life Too:
Your non-vegetarian friends often reason out their love for chicken by saying that even plants have life and as vegetarians, if you can eat plants then what is the harm in eating animals. Feeling nauseatic?
Dare Eating Chicken:
You are often dared to gulp some butter chicken or mutton korma and your meat-loving friends would savour the moment. They may even capture you on camera eating non-veg food. You are promised that you will get anything you want, in return.
Just as the way non-vegetarians may renounce a challenge to quit non-veg food, you also do not need to succumb to these pressures.
While the meat-lovers relish their butter chicken and tandoori pomfret, you can also enjoy your fair share of taste by binging on your paneer tikka and veg pulao.