We become meditative and one with ourselves when we step into pristine temples. There is a distinct charisma of spirituality that takes the weight off our mind and calms it down. Remarkably, there are ancient Indian temples that have progressive architectural promise. We really marvel at the crafting finesse of the bygone era leave alone their prodigal lifestyle.
Hinduism is the world's third largest religion and as scholars believe, it is the oldest religion in the world. There are many Hindu temples that are scattered around many parts of South East Asia and their breathtaking architecture attract many a visitors every year.
Kanchi Kailasanathar Temple, India:
Kanchi Kailasanathar Temple is located at Kanchipuram in the Indian state of Tamil Nadu. This Hindu temple is built in the Dravidian architectureal style and is dedicated to Lord Shiva. A ruler from Pallava dynasty, Rajasimha, has built this temple in around 685-705CE which contains a large array of carvings and half-animal deities.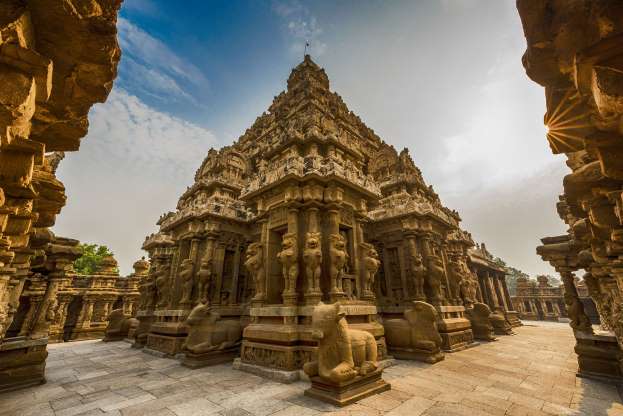 Pashupatinath Temple, Kathmanu, Nepal:
Pashupatinath Temple is a famous Hindu shrine that is located at the banks of Bagmati river, Kathmandu. The temple is dedicated to Nepal's national deity, Pashupatinath. One of the UNESCO World Heritage Sites, this temple is famous for its architectural marvel.
Sri Mariamman Temple, Singapore:
Sri Mariamman temple is one of the oldest Hindu temples of Singapore. This Agamic temple is built in Dravidian style of architecture. The temple is a magnet to many a devotees and tourists because of its architectural and historical significance.
Koneswaram Temple, Sri Lanka:
This is a classical-medeival Hindu temple located in Trincomalee, Sri Lanka. This major place of Hindu pilgrimage overlooks the Indian Ocean. Koneswaram temple features they aspects of Dravidian temple plan. One of the notable things about this temple is its thousand pillared hall called, "Aayiram Kaal Mandapam"
Malibu Hindu Temple, USA:
This temple is located in California, USA and is dedicated to the Hindu God Venkateswara. This temple bears resemblance to the old South Indian architectural pattern where Lord Venkateswara is the presiding deity.
BAPS Sri Swaminarayan Mandir Temple, England:
This temple is located in London and is deemed as the first authentic Hindu temple in London. The temple is dedicated to Lord Swaminarayan who is being worshipped there since ages. It was constructed entirely from Indian marble, Italian marble, Sardinian granite and Bulgarian limestone. Remarkably, no iron or steel was used in the construction which is the unique feature of this temple.
Penataran Temple, Indonesia:
Penataran is the largest Hindu Temple which is located in East Java, Indonesia. It was believed to be constructed between 12th Century to the 15th century and the presiding deity of this temple is Lord Shiva. This site was added to the UNESCO World Heritage Tentative list in the year 1995.
The sublimity of architecture holds you captive once you visit these temples.