Radha and Krishna – Lord Krishna and Radha's love is iconic and everlasting.
We grew up listening to how they were devoted to each other as lovers irrespective of not being married to each other. Their love is beyond physical desires and had divine undertones. According to the Hindu scriptures, Radha is the incarnation of goddess Lakshmi but there are many other interpretations of the same. It is also said that Radha was elder than Krishna but she was in absolute awe for Krishna's beauty and wisdom.
Krishna too was intrigued by the beauty and intellect of Radha which helped them stay in love forever no matter what.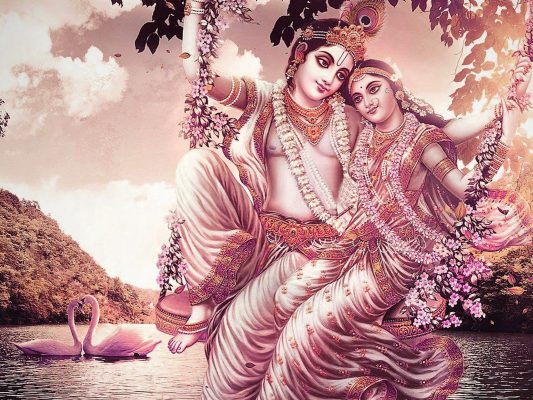 As it has already been pointed above that Krishna was never married to Radha but we always looked up to their love nonetheless. Destiny had other plans for them and Krishna married Rukmini instead who later became the strength of Krishna.
It is also said that Rukmini, like Radha is the incarnation of the Hindu goddess Lakshmi. According to some interpretations, Rukmini and Radha are the same but this one begs a question, how two people can be same after being born from different sets of parents? However, we can easily spot the answer in the birth story of Radha. According to the scriptures, there was an evil Rakshashi called Putana who would kill babies y making them such her poisonous milk, said to have stolen Rukmini from Vidarbha but since the child was too heavy to carry, she converted it to a lotus flower and left it. She was later found by Vrishvanu and his wife Kriti who named her Radha. Which proves that Radha and Rukmini are the same person.
Judging by this philosophy, we can say Radha and Krishna were married where Radha was Rukmini.
However, in other interpretations, it is said that Krishna didn't marry Radha because he was inflicted by the curse of Sridama. According to the scriptures, Radha and Krishna were the supreme gods who used to inhabit in Goulok. Once, they had a visitor there who happened to be the friend of Krishna, Sridama. He expressed his wish to meet Shri Krishna but Radha disapproved which infuriated Sridama. He added that he is having the Viyoga of Sri Krishna and she won't feel the pang until she experiences it herself. He then cursed her that she would feel the same for 100 years and they will be in the same boat, hence. May be this curse was the reason why Sri Krishna didn't marry Radha. Instead, he married Rukmini because she is said to be the incarnation of Mahalakshmi and Krishna is said to be incarnation of Vishnu. In the Devlok, Vishnu and Mahalakshmi are husband and wife.
Radha and Krishna marriage – Purana is open to many interpretations but these stories are widely circulated about Radha and Krishna's marriage falling apart.