Sita is worshipped as a Goddess, who can transcend consciousness. In Ramayana being the wife of Rama, she had to suffer from different trials and obstacles. Till her death, which is known as Sati she had burnt herself to the pyres of fire. Leaving the Kingdom of Ayodhya to exile with Rama and Lakshman was the worst time that she had after her marriage. But her abilities and courage always point out as a capable ruler who could replace Rama and rule the Kingdom.
Kaikeyi did not want Rama being the stepson to be the king of Ayodhya. Even Sita had stepped out with Rama to the exile for spending fourteen years. Being a ruler, Rama was considered as the admired ruler by his people. On other hand, Sita had also the ability to replace Rama. Her spread of popularity as the Sita Mataa, after the birth of Luv and Kush, had elevated.
Power of courage and honesty
The power of Sita has shattered the evil and dominating thoughts of Ravana. Ravana being the most powerful King, the demon was not been able to force and divert Ramaa. She was honest to express her feelings about Ramaa and also the hatred towards the King of Demons.
Her honesty to speak clear and courage to face the Demon points to her ability to manage enemies. A ruler of a kingdom requires to have the characteristics for a strong reign.
Sati rituals and her return shows ability of capable ruler
Rituals by Sati have been practiced in real times even after several years of the mythological story of Ramayana. To prove her innocence and her commitment towards Ramaa she jumped in the bed of fire. After returning from the captive of Ravana, she had to prove her purity to society.
Her beginning journey was with Rama but slowly she was found to fight her journey alone. To prove her innocence and courage towards society, it made her popular among her people. She had earned a distinctive identity as a brave woman with unbeatable power.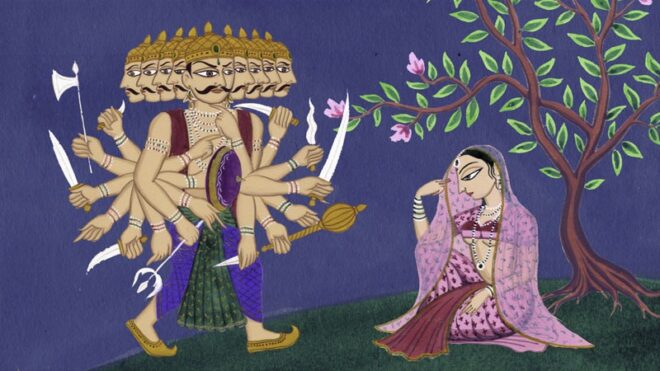 Determined and intelligent
After her return back to the forest, she gave birth to twins, Luv and Kush. Both were grown under the guidance of Valmiki. Well trained in arms, weapons, and other skills, she tried to put in the best effort for her kids.
Sita's determination and intelligence have enabled her twins to give an education similar to the King's child.
Devoted and farsighted as capable ruler
Her devotion towards her husband led her to leave the Kingdom,  separate from Ramaa. Despite undergoing through the Agni Pariksha she was thrown out into the jungle while she was pregnant. Almost after a decade of staying together they had twins, had she not been to exile then both Luv and Kush would have been ruling the Kingdom.
Rama was able to rule his kingdom but to further think about the future of the Kingdom, Sita had better intentions and capabilities. Being a capable ruler needs to be farsighted, committed, and courageous, Sita had all the features to rule a Kingdom better than Kaikeyi.