The formation of a single body from two souls is seen in the "Ardhanarishvara". The idol that is the formation of Shiva and Parvati, is the partial combination of both to set one of the greatest examples of love and unity. The "Vahana" of the half man and half woman is the Nandi, who is known as the blind disciple of Lord Shiva.
Lord Shiva who is believed to rule the universe had a strong bond of love and relationship which can be predicted from the idol. Being two souls separated from each other they are one mind and have dedicated them to stay bonded to each other. Their mind and body are entirely one which is necessary for the true couples who think as one and feel the same passion to be along with each other.
The half body of man is of Lord Shiva, you can see the interlocked hair with the sign of the moon on the head. The third eye of Lord Shiva is visible on the forehead with whom he can see the universe while at his right-hand side is Parvati with long black curly hair, beautifully dressed up in saree adorned with flowers and ornaments. Her vahana is Lion, she is seen with a bull and lion along with her lord Shiva.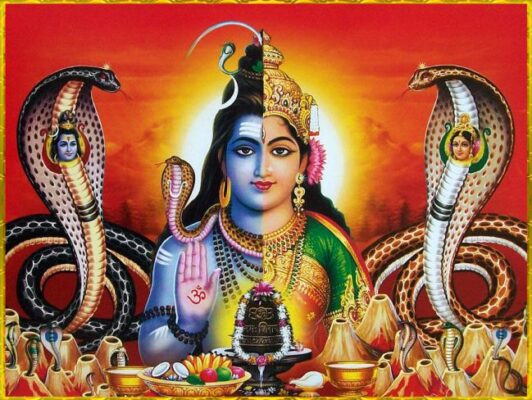 The idol signifies about the conception of gender difference, between a man and a woman. It entirely denies the differential treatment based on gender. Apart from it, an incident is also famous when Shiva decided to make Parvati his better half. Nandi has always been the closest disciple, no one can understand or imagine Lord Shiva without Nandi and Bhringi.
Parvati wanted Nandi to worship her similarly as they do for Lord Shiva. But Nandi denied to do so, and Parvati was highly upset about the discrimination. This is also a reason to believe that Lord Shiva decided to unite with Gauri so that she can receive the worship of his disciples.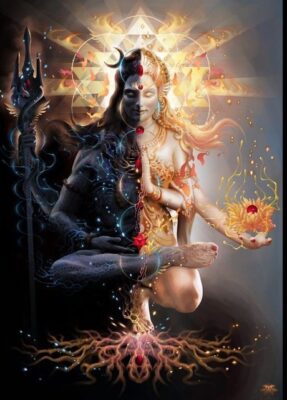 Shiva and Parvati have been always a great belief of nature and love, so on other hand, their unity has been the sign showing the close of a man and woman required along with dependence and trust to be together. "Ardhanarishwar" with the position of "Tribhanga", which is the body posture is divided into three parts. The head, body inclined to form two parts that finally divides into three. You can also find the sitting postures of the idol, half Shiva and Parvati but mostly the standing postures are seen in the temples.
Ancient scriptures and depictions have mentioned about the undivided and inseparable connection between the couple. It stands as the symbol of togetherness, support each other. Compatibility of love and understanding which is highly important for the relationship between husband-wife. Who can think beyond themselves? Think about their partner and stand for them, a great precedent to the universe, where nature and beauty have been described inseparable.