It is quite likely that Sachin Tendulkar will play his 200th test on home soil.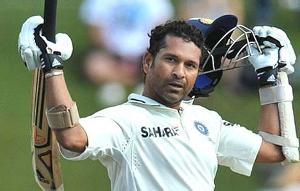 It was confirmed on Sunday, that India would host West Indies for a two tests series in November this year. This means that Sachin Tendulkar will, in all likelihood, play his 200th test on home soil. And if everything goes as per plan, the 200th test may just take place on his home ground at Wankhede Stadium in Mumbai. Many, including former legends, believe that Sachin may call it quits after the landmark test. Everybody expected that to happen in South Africa as the tour to the African nation was on track as per the ICC's Future Tours Programme (FTP). However, BCCI has now negotiated with the West Indies Cricket Board and the West Indies series in November is definitely happening.
Many parties would be happy with this decision of the BCCI. Here's a look at who all will benefit largely by this series.
Home Fans
First and foremost, Sachin Tendulkar is one of the greatest cricketers to have played for India. Since his debut in 1989, Tendulkar has been a fan favorite. In the history of Indian cricket, no other cricketer has shared such a fan following as much as Sachin Tendulkar has. So it's only fitting for those fans to witness a landmark that may never be repeated again in the history of the game. Playing 100 tests is considered a massive achievement but with Sachin's 200th test on the horizon, fans will be trying their best to be part of the mega achievement.
Broadcasters – Biggest Gainers
Star India acquired the broadcasting rights for matches in India in 2012 for a whopping amount. They have showcased a number of series held in India since then. However, the latter part of 2013 and 2014 were the years that India was supposed to play lesser number of home games and rather travel more abroad. The impromptu arrangement of the West Indies series gives an opportunity for STAR to earn some good ad sales revenue. Also, the occasion of having Sachin's 200th test beamed live and exclusive on STAR will have its additional benefits. Exclusivity is the term that needs to be emphasized here. All the rights owners had to share feed with the national broadcaster Doordarshan for a minimal amount which resulted in monetary impact to the rights owners. However, Doordarshan only shows ODI's and T20's. This being a test match, STAR will have the sole ownership to broadcast the match. This presents a great opportunity for STAR to cash in the mega event.
BCCI – Increased Revenues
A new series means additional revenues. BCCI stands to receive the broadcast revenue from STAR and also a rise in-stadia advertising on the occasion of Sachin's monumental feet. There is no doubt that sponsors will be lining up to highlight their brands during the series and that would only result in higher monetary gains for the board.
Big Losers – CSA, Ten Sports
In all of this, Cricket South Africa is the biggest loser and so is Ten Sports. The additional series with West Indies means that India won't have a proper fully fledged series in South Africa. Also, South Africa won't be able to host Sachin's 200th test and it could get worse, if the Master does not turn up at all for the South African safari by retiring at the end of the West Indies series. This would directly impact Ten Sports as well, as it holds the rights to broadcast matches from South Africa to the Indian sub continent and thus loses a large chunk of revenue.
CSA and Ten Sports loss is BCCI and STAR India's gain. Apart from the on field excitement and benefits from Sachin's monumentous feet, it's the off field benefits that will has a larger bearing on all parties involved.