Why police shooting riots in Ferguson – Just when we are left for exactly a month to celebrate Christmas, there are people who are strongly a part of Ferguson Riots.
Just when we are left for exactly a month to celebrate Christmas, there are people who are strongly a part of Ferguson Riots.
Ferguson is a city in St. Louis County, Missouri which is a state of The United States. The place is an eyewitness for the 4 months long riots that are taking place by large number of people.
This series of rebellious protests and disorder is going on right after the day when an unarmed boy named Mike Brown, shot dead by a Ferguson Police Officer.
And right from the next day people were all protesting against the police and the government.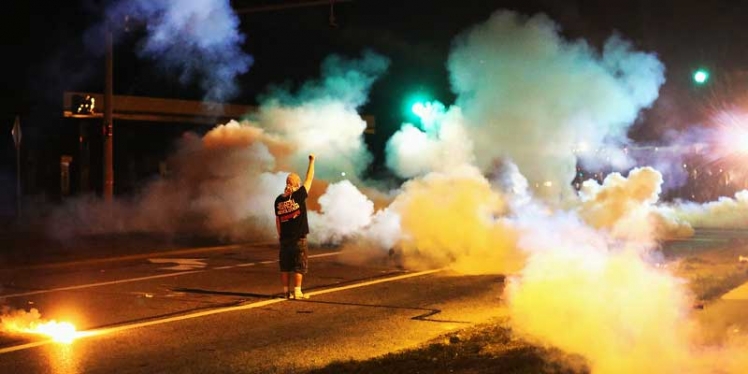 Behind the whole incident
Mike Brown, 20-year-old boy shot dead by the Ferguson Police Officer Darren Wilson after a small fight on the streets of the city.
Wilson asked Mike Brown to not to walk in the middle of the road but both got into the major argument and it ended up with on the spot death of Mike Brown.
Officer shot him with endless gunshots.
Right after the death of Mike Brown, there were number of people on the street to pay homage to him at the same place where he died.
The public was completely outraged by the incident and asked for the justice of Mike Brown.
The protests took a bad turn when few people from the protest went violent and went on looting. This made the police to take a strong action which resulted in a lot of violence.
The protestors went more enraged when the grand jury decided not to take any action against the officer. Ferguson witnessed the great anguish of the crowd and demanded justice for Mike. The place has witnessed a lot of violence and many shops are also broken and burned.
While there are many people who are carrying out peaceful protests but still there is one group who is responsible for looting and unnecessary violence. This makes police to be stricter and thus have warned many reporters to back off else they will be arrested. The police is taking a strong action to supress the protest and to clear the streets.
Some bunch of rioters are damaging the public property in Missouri (Ferguson) and have broken the windows at the Ferguson City Hall. They also set a police vehicle on fire and this to a very extent intensifies the situation.
Not only in Ferguson, But now there are protests and several people marching on the roads of New York and many other cities of United States. People carried out the protest at the Times Square of New York.
The whole protest is taking place against the racism and to fight for the justice of Mike Brown.