India is a country of religions and temples. Some of the temples are so rich that the cost of their assets is out of imagination for an ordinary person.
India is known as the country of religions and people are known to be fanatical about their Gods and Goddesses. No matter how fast the country progresses, people are conservative as far as religion is concerned.
In India, religions have been preserved in the form of temples. People of India, especially Hindus and Sikhs, are so religious that they donate money, gold, and jewellery to the temple.
If we observe other religions of the world, we will never see money as a medium of faith. It is unfortunate that India is the only country where Hindus and Sikhs, most of them poor, offer money and expensive valuables to their Gods and Goddesses as token of their faith.
With these expensive offerings, some of the temples have accumulated so much of wealth that the amount of their assets is out of imagination for an ordinary person. And nobody knows how this wealth is being used by their so called Trustees!
There are many ancient temples that are telling the stories of vast richness and wealth!
Let's have a look at some of the richest temples of India.
Padmanabhaswamy Temple – Kerala – India
This Anantha Pasmanabha Swamy temple, located in the city of Thiruvananthapuram in Kerala, was built before 1566.
This temple has become the richest temple of the country after 7th July 2011 when the assets of $ 22.3 billion, approximately Rs. 1,25,000 crores, were discovered from underground cellars and crypts of the temple. The treasure that was found included ancient gold ornaments, diamonds, gold idol worth Rs. 500 crores, gold crown, gold bow, ancient gold coins, gold in the shape of rice trinkets, eighteen feet long necklace, thousand of pieces of jewellery, diamonds, emeralds, rubies, and gold vessels.
The everyday income is not known but should be enormous.
The total assets of the temple are believed to be 5 Lakhs Crores!
Tirupati Balaji Temple –Tirumala – Andhra Pradesh – India
Tirupati Balaji- Sri Venkateshwara Deity, the magnificent temple located in Andhra Pradesh, is most sacred pilgrimage in Southern India. 'Lord Balaji' is being worshipped in this temple and known to fulfil the wishes of those who visit and pray with clear conscious. Top businessmen, Bollywood stars, and Politicians of India are devotees of the deity and donate quite huge amount to the temple frequently.
According to myth associated with this temple, Lord Balaji used to live in the temple and had to pay massive loan to Kuber, the God's treasurer, which he had take for his wedding expenses.
Sri Venkateshwara Deity is wearing around 1000 kg of Gold – Around 50, 000 pilgrims visit the temple everyday – People drop bags of Gold and Diamonds at the feet of the Deity – Every day 1,50,000 Laddus are made for devotees that generate around Rs. 150 Crores annually.
The temples annual income is believed to be more than Rs. 750 Crores annually!
The total assets of the temple are believed to be approximately 1,50,000 Crores!
Sai Baba Temple – Shirdi – Maharashtra – India
Shri Saibaba Temple is located in Shirdi, around 200 miles away from City of Mumbai in Maharashtra-India.
This Temple, a beautiful shrine, was built in 1922 in the memory of Saint Saibaba who took begging as the way to earn his livelihood and spent his life as 'Fakir' As far as background is concerned, Sai Baba didn't leave any record of his birth, religion, caste, creed, or any place from where he came to Shirdi. Nobody knows whether Sai Baba was Hindu, Muslim, or Christian. So people of all religions visit Shirdi and offer their prayers.
On an average around 40,000 people visit Shirdi every day that goes to million on festival seasons. Bollywod stars, Businessmen, and Politicians are among them.
Temple receives around Rs. 500 Crores of donations every year!
The Total Assets including Gold, Jewellery is about 100,000 crores!
Shri Siddhivinayak Temple – Mumbai – Maharashtra – India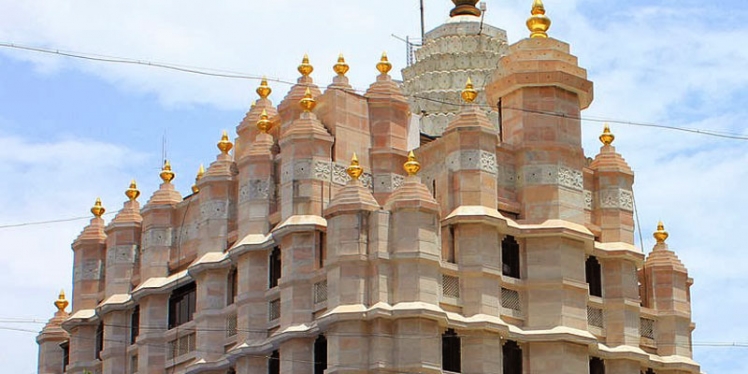 This Siddhivinayak Monumental Temple is basically Lord Ganesha temple located at Prabhadevi, near Dadar in Mumbai – Maharashtra, India. In 1801, Shri Laxman Vithu and Mrs. Deubai Patil built this temple. According to ancient legend, the idol of deity Shri Siddhivinayak was invoked by Lord Vishnu during his war with the demons Madhu and kaitabha.
Devotees, including film stars and other celebrities, visit this temple at regular interval to have glimpses of Lord Ganesha, pay their homage to the Deity to fulfil their wishes.
Everyday around 40,000 to 2,00,000 devotees visit the monumental temple.
The annual income of the temple is believed to be more than Rs. 100 to 125 Crores annually!
Total Assets of the temple is estimated around 50,000 Crores!
Golden Temple – Amritsar – Punjab – India
The Golden Temple, commonly known as Harminder Shahib, is located at Amritsar – Punjab- India. This holy place is a worship place for the people who follow Sikh religion. The Golden Temple even gets more captivating at night when the temple and its dome are illuminated. The palanquin, where Adi Granth is set, has a golden canopy that is supported by silver poles.
This holy Golden Temple has around 75 Lacs visitors every year
The temples annual income is believed to be more than Rs. 300 to 400 Crores annually!
Total Assets of the temple across the world is believed to be around 75000 Crores!
Looking at all the visitors, revenue, and the assets of all above mentioned 5 temples, it is evident that we all poor people have donated and made these Gods wealthy who were supposed to make us rich.
It is unfortunate!!!