Yes it just might happen… this time, for real!
Taslima Nasreen might just succumb to an attack on her by a Bangladeshi group of extremists.
Taslima Nasreen, one of the world's most outspoken authors on topics like feminism, gender bias and anti-religious criticism is again under the ire of the Muslim community. The Bangladeshi author is now struggling to keep her life safe in spite of being targeted by several pro-Muslim groups who are hell-bent on removing all her work from the public's reach.
She is one of the few authors like Salman Rushdie who are actually hated for their literary work especially since she writes on topics that question humanity, its social dogma and why women are objectified by men for sheer carnal pleasure.
Life History
Thanks to her fiery and outspoken tone, she had been banished from her home country, Bangladesh in 1994 and took asylum in the West like USA and European countries.
Even then, she published such works to register her angst against this society which treats women like garbage and always questioned the mentality of men – 'they think with their penis and that a woman is simply an object for sex, nothing else more', that's what she always highlights.
She has taken shelter in India for some time hoping to stay as close as possible to her alma mater. However, in India too, she faced immense hate from all factions of the society who did not believe in what she writes and deemed her work devilish and culpable to society. Many of her books were burnt and she had to flee from Kolkata towards Delhi in order to protect her life. She even faces a mild ban on the sale of her books in West Bengal.
Battling for her life is one constant struggle in the life of Taslima, an author who has used the 'power of the pen' to question society, its abhorrent rules and why this society is so disrespectful and thankless to the contribution of women in this world.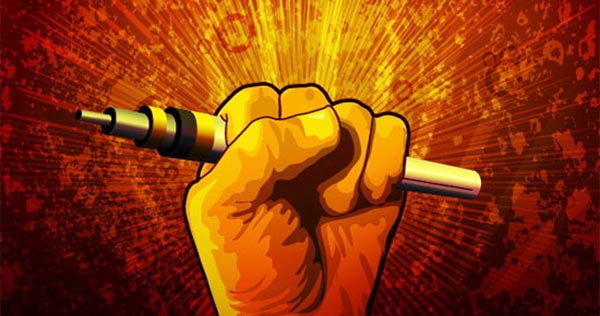 She was put on house arrest in Delhi for some time. She even hoped for an Indian Citizenship but that was never granted, after all India does not want communal riots over literary work! She currently lives in India on a Swedish passport.
Death Threats
Taslima has faced innumerable threats from countless groups. But, this one is more terrifying since it is happening in front of everyone's eyes – social media threats!
A Bangladeshi terror group called Ansarullah Bangla Team is now planning to travel to New Delhi (where she currently resides) and plan to kill her after entering West Bengal from the east border of India-Bangladesh.
Apparently, the group follows the ideologies of Anwar Al-Awlaki, a Yemeni al-Qaeda activist who was recently involved in the bloody lynching of America-based Indian writer Avijit Roy and microsite-blogger Washiqur Rahman this previous month for severely criticising Islam and its ideologies.
Are These Threats Credible?
Yes! This threat is grave and serious! The members of this team are brazen and vile! They post their hate messages online just before they attack and kill their victim. Before killing Avijit and Washiqur, they used the same formula of using radicalism and inciting fear within the writer's mind.
However, Taslima has told the media, "It is scary. But as long as I live, I will not be silenced,"
Even intelligence sources from India and Bangladesh are working hard to protect her life, maybe she might be sent to some other country. Since Washiqur was attacked merely because he wished Taslima on her recent birthday and posted the super-controversial Charlie Hebdo pictures defaming Islam on his Facebook timeline.
Recently, Taslima's Facebook page is getting 90% death threats and most of them are scary and seem legible!
Some posts read like this:
"Get ready for the afterlife," one person posted.
"See you in hell," wrote another.
Recently, the killers of Washiqur confessed that they are infiltrating into India and are planning to her assassinate her.
The ruling party of West Bengal, TMC had denied to comment since she is currently under the Central Government's protection.
Taslima is seeking a meeting with Indian PM Narendra Modi for some urgent discussion regarding her life's safety and an Indian citizenship for herself, but no statement has been released on it by the PMO.
We just hope that the extremists come to their senses and stop all this madness. We at Youngisthan are also writers and we know that writing fiery blogs does not mean a direct threat to life. Dear readers, please be sane and exercise your discretion.