Jaipur Hawa Mahal – Jaipur or otherwise known Pink City is famous for its historical and architectural heritage that attract thousands of visitors every year.
There is no dearth of historical monuments and breath-taking architecture with an added dollop of beauteous landscapes. Jaipur Hawa Mahal is one of these masterpieces that had been built by Rajput king Sawai Pratap Singh in the year 1799.
The sheer elegance of Jaipur Hawa Mahal makes it a favourite of the history enthusiasts. Furthermore, the peak of Hawa Mahal resembling Lord Krishna's crown adds a religious accent to it too. Hawa Mahal was constructed with red and pink sandstone which stands souvenir to an amalgamation of Mughal and Rajasthani architecture. The stone engravings of the monument are repository of the artistic grandeur of the bygone years.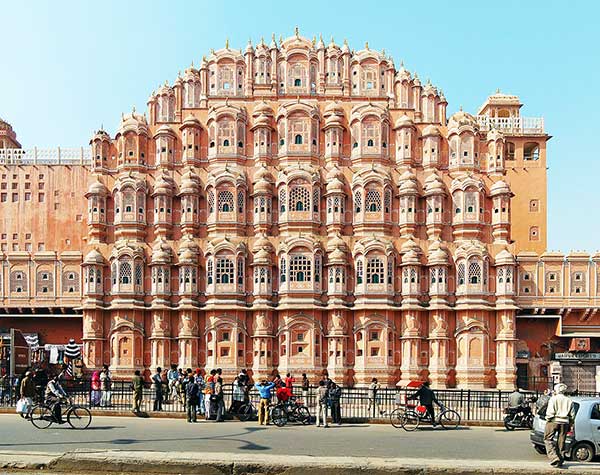 Here are the reasons why Jaipur Hawa Mahal looks like lord Krishna's crown:
It was built to look like lord Krishna's crown by Rajput King Sawai Pratap Singh who was believed to be a great devotee of lord Krishna and made Hawa Mahal as an offering to the lord he worshipped.
Jaipur Hawa Mahal was named after Hawa Mandir which is located at the 5th floor of this monument which is invariably a Krishna Mandir.
Jaipur Hawa Mahal was regularly flocked by Royal Ladies who were Krishna devotees and went there to offer their prayers in the Hawa Mandir. There was a beehive like intricate design in the windows from where the royal ladies could catch glimpses of the bustling city without coming out in the public glare.
The Jaipur Hawa Mahal is one of the iconic monuments of history that has no foundation and is a blend of both Mughal and Rajput architecture. It was also engineered in a manner that the breeze flew through 953 small windows there by air-conditioning the place during summer to stave off high temperature.