Prime Minister Narendra Modi showcased his own personal branding in a woollen bandhgala with his complete name woven all across the stripes on tea talks on Sunday, December 25th in a meeting with President Obama.
PM Modi's and US President Barack Obama's 'Chai Pe Charcha' at Hyderabad House on Sunday, January 25th, was not only a comfortable and cosy setting with tea sets, roses and shamiana, it was also a style fiesta where our Prime Minister showcased his own personal branding in a woollen bandhgala with his complete name woven all across the stripes.
Yes! If you watch carefully the pictures of his suit he wore for tea talks that day, you will find 'Narendra Damodardas Modi' monogrammed in pin stripes all over his blue suit.
The bandhgala is reported to be designed by a store in Ahmedabad for men's clothing, Jade Blue which has been Modi's fashion stop for decades now and the owner of the store claimed to have stylised exclusively for the Prime Minister.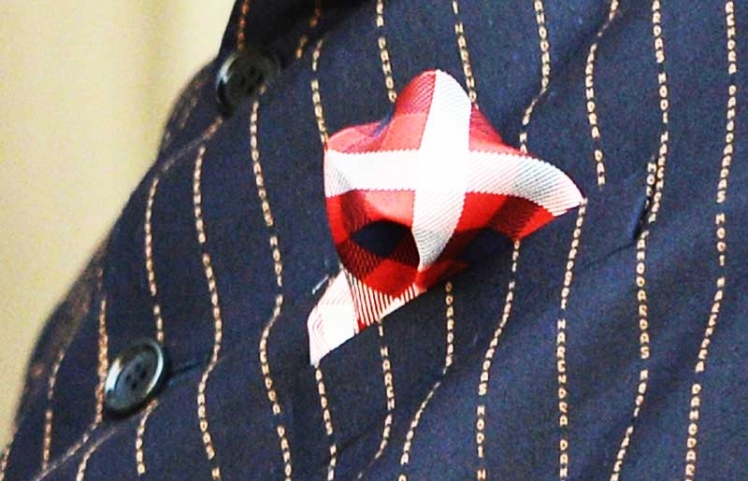 However, we have a style icon and a first-time Indian PM to wear a bandhgala with this monogrammic print, although several celebrities and even political leaders of other countries have worn similar styled clothing before. Egyptian President Hosni Mubarak also tried this trademark style.
International brands like Burberry and Hermes fashion clothing for men have been much popular for these trends and have made it quite the in-thing.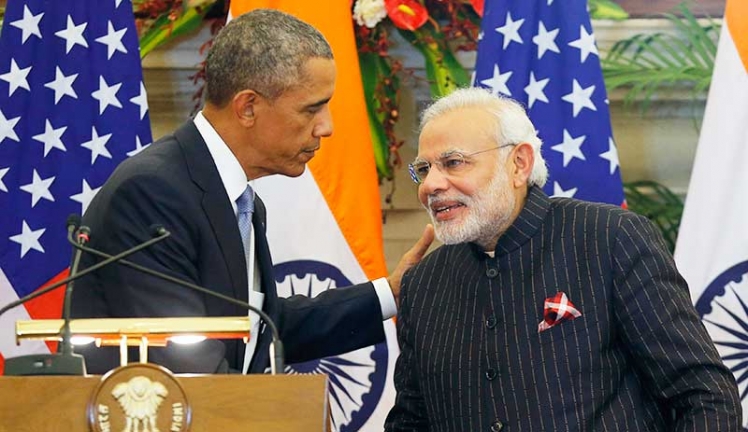 However, Twitteratis have given mixed reactions to this trend of personalised styling by Modi, where some have praised him as an inspiring Fashion icon, especially representing the country while others have not accepted this too well and opponents have taken potshots at him calling him a narcissist and megalomaniac!
Modi wears a jacket with his name written all over. Is this megalomania or narcissistic personality disorder? Is this curable? #psychology

— Prashant Tandon (@PrashantTandy) January 27, 2015
Modi Assets worth 2Cr only, but wears suits costing 10lacs each. Who pays? Taxpayers money? Corporates ? #ModiSuit

— Vinod Mehta (@DrunkVinodMehta) January 26, 2015
.@GG_Studio Whatever PM Modi wears, is very apt to the occasion @rahulkanwal #NEWSROOM

— HeadlinesToday (@HeadlinesToday) January 26, 2015
Designer Anand Bhushan has, on the other hand taken this personalized textile and style statement as an initiative for fresh branding motives. "Narendra Modi himself is clearly a bigger label than Gucci. Thus, he is wearing his own eponymous brand, with his name inscribed all over the outfit!"
While Modi greeted Barack Obama and Michelle Obama at the Palam airport in beige coloured kurta and bright orange shawl, he changed his attires all through the day and even went on to carry out an elaborate bandhni as a turban with a formal black suit. The tie-and-dye turban reflected his spirit of celebration for the Republic Day as it was red, green and orange coloured with white dots all over. Well, who would know better about the bandhni technique than PM Modi who has ruled the state of Gujarat for a decade before he was opted with majority votes for Prime Ministerial duties?
You might remember PM Modi's turban styling during his Independence Day speech, which according to designer Manish Malhotra, "he wore with incredible panache and style."
Designers would certainly be elated with PM's sense of fashion and styling however, the suit was hand woven using the jacquard technique that would alone cost somewhere between Rupees 80,000 to Rupees Five lakhs, let alone the price of the fabric, labour and making charges.
Modi has always been popular for his short kurtas or kurtas with half sleeves and sleeveless jackets where the store, Jade Blue has been given the rights to use the Modi label for their sets of kurtas ('Modi Kurtas').
Even Obama seemed to be flattered with Modi's style statement and claimed at the banquet meeting, raising a toast to India that he wants to buy at least the 'Modi Kurta' for himself.