Will Narendra Modi be able to garner votes without the support of veteran BJP leaders?
BJP is facing in-house opposition for announcing Narendra Modi as their PM candidate for 2014 general elections. In the past few days, efforts were being made to convince veteran politician Lal Krishna Advani, but it seems those attempts were not enough as senior party leaders are now attacking him on social networking site, Twitter.
Former Bihar deputy chief minister and the state's BJP chief Sushil Kumar Modi topped the list of leaders within the Hindu nationalist party to openly attack adamant Advani for his resistance to Modi's PM candidature.
Sushil Kumar Modi tweeted that Advani has failed to guage the public mood on Narendra Modi and should support him as he supported Atal Bihari Vajpayee in the past.
Another Advani loyalist, Sudheendra Kulkarni tweeted, 'A socially polarising leader has polarised his own party. Can he run a smooth, stable and effective government at the Centre? THINK SERIOUSLY!'
However, Subramanian Swamy, who has recently joined the party, tweeted in support of Advani saying 'Advani was the favoured candidate for PM in 1996. But he chose to make a sacrifice then. It is wrong to say PM aspiration is behind it.'
Advani is showing up to be an impediment for BJP chief Rajnath Singh in finalising Narendra Modi's name as their PM candidate and frantic efforts are underway to convince him on Modi's name.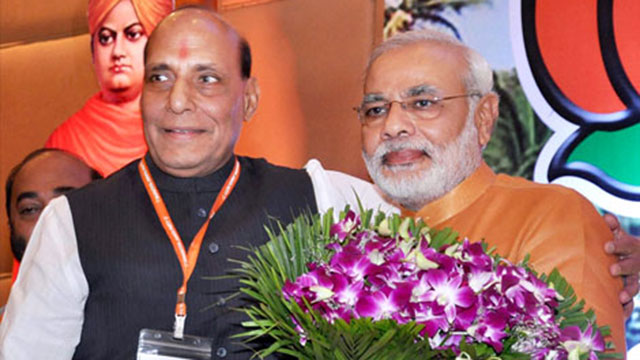 Opposing Modi's candidature, the veteran leader had announced his resignation from all party posts soon after Modi's appointment as BJP Campaign Committee chief in the national executive meet at Goa.
There are also reports that not just Advani, even senior party leader Sushma Swaraj is not in favour of Modi being announced as the PM candidate.
According to reports, a formal announcement may be made on Friday when the BJP parliamentary board meets to approve Modi's candidature but in case an accord does not surface, Rajnath Singh can also make an announcement without the board meeting, as he holds the power to do so.
The questions arises that even after the resistance of Advani and Swaraj, if Modi is announced as the PM candidate, will he be able to woo voters without the support of senior and experienced party leaders?