Pakistani Nescafe Basement – India and Pakistan's relationship is symbiotically dependant concerning music, India for years have welcomed singers from Pakistan like Nusrat Fateh Ali Khan, Adnan Sami, Ali Zafar, Atif Aslam who serenaded Indian audience for years.
Our heart sinks to think if it was not for the bilateral rivalry, India and Pakistan would have shared an uninhibited camaraderie in the realm of music. We all want it to happen but keep emotions bottled away under the chronic misuse of the martial rivalry in regular life. But then again, there is no boundary for music, birds and wind and music is entirely subjective so we are here considering things by the merits of talent.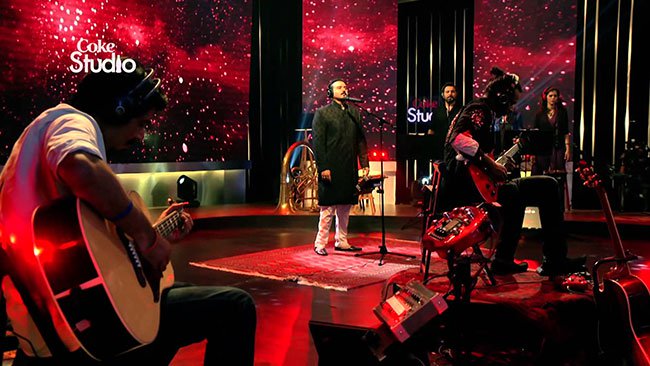 There is a small demarcating line between subtle and mediocre.
To rise above mediocrity and touch the human hearts, one must be intent to stave off commercialism. When commercialism takes over, we tend to recycle the same gibberish.
Both India and Pakistan boast their own brand of musical reality shows that replicate each other. While we have an array of reality shows like Indian Idol, Coke Studio, Dewarist, The Stage etc., their Pakistani counterparts like Pakistan Idol, Pakistani Nescafe Basement, Coke Studio and Sing with Aqueel.
Many a times after a blissful amalgam, Pakistani and Indian music together becomes an evoker of allegory. But what's the carp about if Pakistani music surpasses the Indian ones?
There's a reason why Pakistan is nailing it better because Pakistani music industry is not dependant on their film industry and hence no question of commercialism arises. Coke Studio is of a different kind where music is experimented and seen from varied angles. Pakistani music that Pakistani Nescafe Basement deals with is purely traditional and connected to the Sufi roots. They also juggle with alternative music because Pakistan has rose above the Sufi and Urdu music and engaging more experiments in the narrative.
Indian Coke Studio, on the contrary, is solely depended on Bollywood music and there is a big void as it misses the regional Indian music. We focus more on the sound but Pakistan keeps the Ghazals as raw as possible which is the biggest draw.