The best thing about The Lunchbox is that it doesn't shy away from crossing lines, and lets its characters choose their journey on their own terms.
Cast: Irrfan Khan, Nimrat Kaur, Nawazuddin Siddiqui
Director: Ritesh Batra
Rating: 4.5/5
Newspapers routinely carry stories these days about how finally we have independent, self sufficient female characters in films that are relevant to its narrative. While I agree in most part, I think in portraying these 'liberated' women on screen, directors/storytellers often stop themselves right before she can take a radical or unexpected decision. I was upset when Sridevi in English Vinglish decided that she didn't need love but only respect from her misogynist husband and ungrateful children. Vidya Balan in The Dirty Picture similarly left me slightly baffled; particularly distressing was her choosing death. A gun wielding Parineeti Chopra in Ishaqzaade was such a refreshing character but then why was her fury eventually tamed and turned to love? Kangna Ranaut's jugni Tanu in Tanu Weds Manu, Deepika Padukone in Cocktail, there are so many such characters that pushed boundaries, but were pulled back right where it mattered most.
The best thing about The Lunchbox is that it doesn't shy away from crossing lines, and lets its characters choose their journey on their own terms. The final few moments of the film struck me as perhaps the bravest to come out of Indian cinema in the recent past. As Ila, our female protagonist, stands by the window contemplating her future, in her resolve I found the 'liberation' that all of the earlier films had failed to produce. This is just how I would have wanted the film to end, in ambiguity, but with hope.
The film uses Mumbai's famous dabbawala service as its premise and ponders over what would happen if the flawless delivery system was to go wrong once, delivering a housewife's dabba for her husband to a stranger instead?
Ila (Nimrat Kaur) is a bored housewife, desperate for her husband's attention who packs up a delicious meal in a dabba hoping to make a place for herself in his heart via his stomach. Except the dabba is mistakenly delivered to Saajan Fernandes (Irrfan Khan) – a reclusive accountant, on the verge of retirement. What begins here on is an utterly honest and real exchange between the two, over letters that take off awkwardly with conversations about the city and its happenings, slowly moving to personal insecurities, fears, and dreams. Both find in each other the antidote to their loneliness.
The letters never become overbearing or heavy, always keeping it real, speaking the language of everyday people. She writes to him in Hindi; he replies in English. She opens her heart to him; he's mostly curt and unemotional. And yet, they fill a gap in each other's lives, helping them realise they want something more, something else.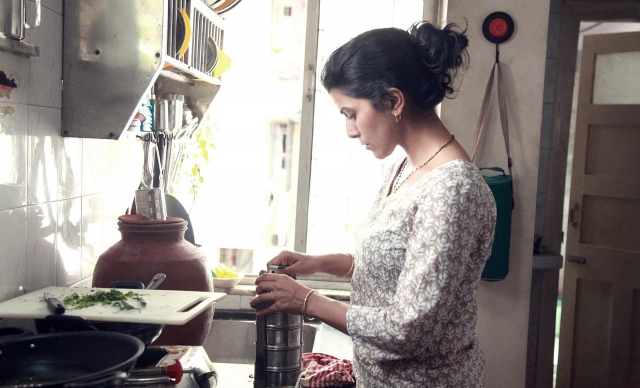 The character of Ila, burdened by the responsibility of a young daughter, an absent unfaithful husband, a troubled mother and a terminally ill father, needed an actor who could pull off the many layers and complexities that the script allowed her. Admittedly, Nimrat Kaur was absolutely fantastic as Ila, conveying mischief, desperation, loneliness, hopelessness and resolve with flair. Her interactions with her neighbour 'aunty' (a brilliant voice over by Bharati Achrekar) with whom she only talks through her kitchen window were particularly lovely, adding some relief to her otherwise claustrophobic life.
Irrfan Khan as Saajan Fernandes was exceptional. There aren't enough adjectives to describe his superlative performance as a man who spends most of his day by himself, tapping away on his calculator or puffing cigarettes on his dingy balcony, all alone. He genuinely seemed reluctant to talk, and reply to questions, as if by breaking his reverie someone had encroached upon his personal space. Awkward and melancholy, Khan was a delight to watch. Nawazuddin Siddiqui as Aslam, Fernandes' colleague and friend helping unravel Fernandes' guarded self with well meaning humour and jest, was also fantastic.
This is easily one of the best films I have watched in years, overwhelming me with its quiet, slow and gentle pace. Ritesh Batra is clearly a master storyteller, turning the simplest of stories into a powerful treatise on love and life.