Marriage Proposal – Proposing someone could be a bigger challenge in someone's life and you can't do it without a proper planning.
Well! Some of us make it go too far that it either becomes surprising or way too funny or maybe aggressive as well. Better you know what your partner wants. Starting from the worst-
Marriage proposal is no business deal
Boyfriend tried to arrange a grand proposal to his girlfriend and that too in public. First of all, he made it public and second, he made the speech very long. Then, he kept on saying while the girlfriend was staring at him and the other onlookers too who were curious to know what next. Then, the time came when he just said the words that if girlfriend says yes, he would immediately put her name on the deed of his house. The girlfriend got so furious by listening to this that she immediately responded that this is no business deal and just went out. Boyfriend follows her and tries to make her understand but that was too late because he had already embarrassed her by making her feel that she is a gold digger. This is not known what happened next because the onlooker made this video and uploaded to the internet. I really don't think any positive results in this case. Boyfriend surely does not know what her girl wants or maybe he just wanted to gift her something grand. Whatever be the reason, he ruined it after all by making her feel ashamed. If by any chance he gets to propose the same girl, it has to be indoors and very simple. So, here is the tip to all of you reading this to keep your proposal indoors if you are not sure about the answer or maybe if you do, the proposal seems to be a private matter for a reason that you two are more than happy and others just wants some spicy gossip for the dinner table.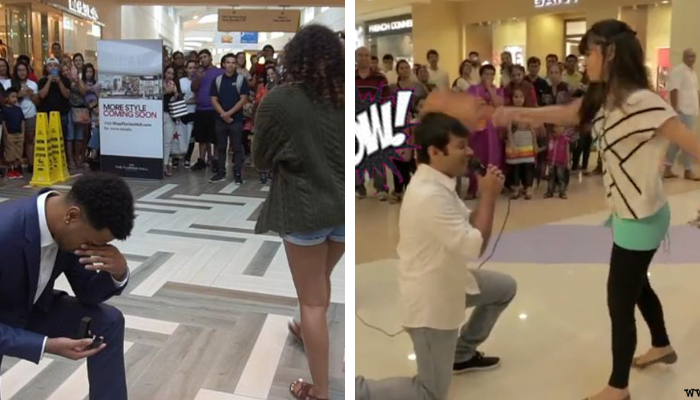 Again the concept of public Marriage Proposal is horrible
This time it's a girl proposing to a guy in a mall by building up a story. Don't know where the location is but the story went so viral with loads of salty comments. The story starts when the lady all dressed up like a doll enters the mall and started asking everyone if they have seen her fiancé. And, then she saw him coming down from the elevator. That's when she kneels down and propose to her guy with a ring.
The next scene is horrible when the guy makes her stand up, declined the offer and walked away without looking back for once. The girl starts crying after rejection and went off. When the video gets viral, comments were usually in favour of the girl that a lady should not be left insulted in this way but hey! let's come to some logic that we have seen many girls doing that as well. Not just declining the offer but many time being violent after the proposal. You need to know that public proposal might take you to an offensive level but for your partner, it may seem cute. So, before your reaction comes out, handle the situation well, just do not say anything or maybe if you want to or just keep it short. Once you start realizing that he/she is going to do something which you might not like, get up and tell that straight. It's not something that you don't know.
Proposals can never be surprising, the situation can be because when the partner is going to propose you, there are little hints you get before that.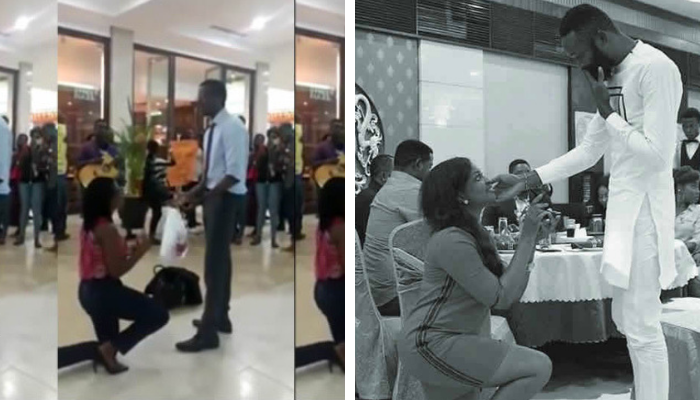 This Marriage Proposal is amazing – Technical and creative
After one year of a relationship, boyfriend made a necklace for her girlfriend, a very beautiful necklace that she wore everyday. And, they both were travelling the world together when finally the day came after one and a half years.
They were in Smoo Cave in Northern Scotland when he borrowed the necklace from her, broke it down and proposed her with that ring inside the necklace. Well! It was an emotional one and far better than what we read above. Though we don't expect this much of creativity from everyyone at least what we can learn is the choice of place which is not crowded plus the harmony between the couple is much usual for her to be expecting a proposal or maybe she is preparing on how she is going to say yes.
Before any proposal, just do the risk analysis and if it is the below the mark, make it simple as much as you can so you don't get embarrassed and make her feel the same.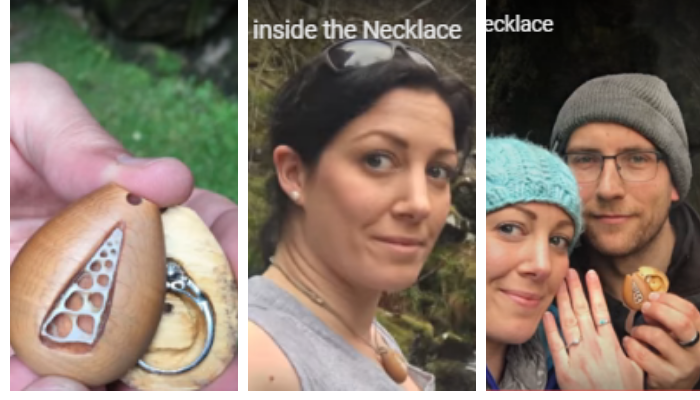 The mediocre marriage proposal – Warning Ahead!
This is again a public proposal and this time the location is a concert. A college couple went to this big concert where the guy decided to propose in such a crowded place. In between the proposal, he was interrupted twice and then the lead singer calls both of them to the stage when boyfriend completes the proposal and she said yes. Seems good! The couple went backstage and the lead singer congratulated both of them and said- See you next week at the wedding divorce. That was like tit for tat. You disturbed his concert and he, the whole relationship…sort of. This one I would say must be hilarious and shocking both at the same time for the audience. They saw a girl saying yes and next, the singer came up with this sarcastic comment. There is only one warning and it is to avoid public proposal because you don't know what could come next from the audience. It could be a bad remembrance for you the whole life of course if you continue the relationship. And, if not then this could be a lesson for you.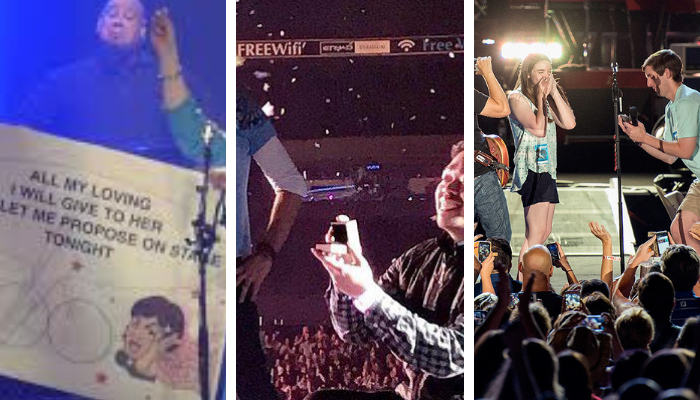 There are thousands of proposals flooded over the internet and I have chosen a few for you to categorize each type of public proposal that is good bad or with mixed feelings.
There is nothing like a perfect proposal but you make it perfect if you know what the other one wants. If you just think what you like, you are being selfish and there is no way you should come up with something that looks foolish to your partner.
If you are preparing a grand marriage proposal, make sure you give hints before that so you can do the risk analysis and prepare accordingly.