Ven Pongal – We often run out of options when it comes to making breakfast or snacks.
During the morning hours when you are ready to go for the daily toil, there is not much time at hand to prepare a good breakfast and you end up only munching on some 5 Star or resort to the textbook bread-butter-scrambled eggs. But then, there are people who will not trade their food for anything and won't back off from trying out new recipes. They will always have grocery stacked up because, well, they love to eat and feed.
For those diehard foodies, here is a quick and easy breakfast recipe and making which won't require a lot of unheard ingredients. Read on below:
Ven Pongal is a popular South Indian dish which is prepared from Moong Dal, Rice and other spices that is served during the breakfast accompanied by dishes like Sambhar and coconut based chutneys. This dish is a fad in Tamil Nadu but also gained popularity among the other South Indian states.
The main draw about Ven Pongal is that it is savory and healthy because apart from the nutrient-packed ingredients, there is not much oil used. Here is the complete recipe of Ven Pongal:
You will need: 1 tsp of ghee or clarified butter, 1/2 cup rice rinsed, 1/2 cup moong dal rinsed, 4 cups of water and 1/2 tbsp. salt. For the tampering you will need 2 tsp of ghee or clarified butter, 1 tsp of cumin seeds, 1 tsp of pepper, 1 inch finely chopped ginger, 2 slit chillies, 10 cashews cut by halves, 1 pinch Hing or asafoetida.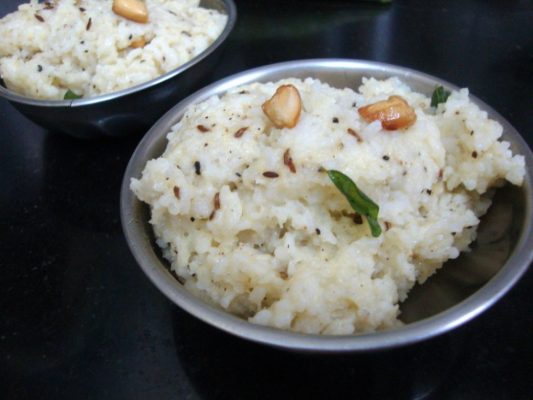 Preparation: Heat a pressure cooker and add 1 tsp of ghee, add 1/2 cup rice and 1/2 cup moong dal and saute until it leaves aroma. Now add 4 cups water and 1/2 tsp of salt. Cover and pressure cook for 5 whistles on medium flame. Now when the pressure cooker cools down, stir it well. Take a pan and heat 2 tsp of ghee splatter cumin, pepper, ginger, chilli, cashews and one pinch of Hing. You need to saute it in medium flame until cashew turns golden brown. Now, pour the tampering over the cooked dal and rice mix and it is ready to be served with coconut chutney or sambar.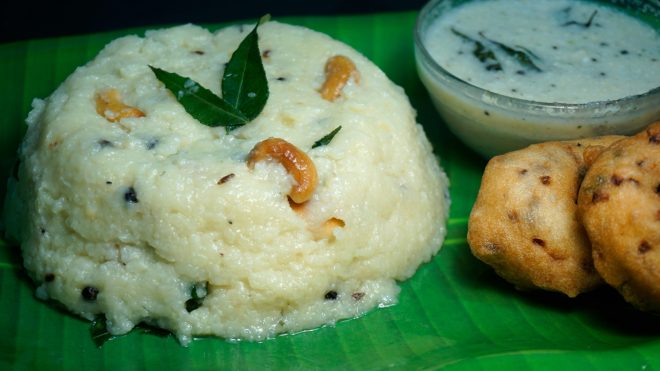 This recipe is also called Khara Pongal in South India that many people swear by. You will need to make sure that there is aan equal proportion of Moong Dal and Rice so that the thickness turns out as prescribed. While some people prefer 2:1 ratio of Moong Dal and Rice but the best way to have it is by 1:1 ratio of both the ingredients. You can use any kind of rice that is good to go for this recipe but we urge you to use raw rice or sona masuri rice which will definitely enhance the taste.
Always keep in mind that you need to roast both the rice and moong dal in ghee before trying out the recipe which ensures a beautiful aroma. However, there is no need to brown the rice and dal from roasting, just light roasting will do the magic.