It's always a good idea to opt for an inverter from a brand that has an impressive track record of delivering only the absolute best quality products and never go for cheaper rip-offs since an inverter is a vital piece of equipment and a bad one can easily cause significant damage to your other home appliances as well.
So, if you are looking for the best inverter for home, give the Luminous Zelio+ 1100 Home Pure Sinewave Inverter UPS a shot!
Luminous Zelio+ 1100 Inverter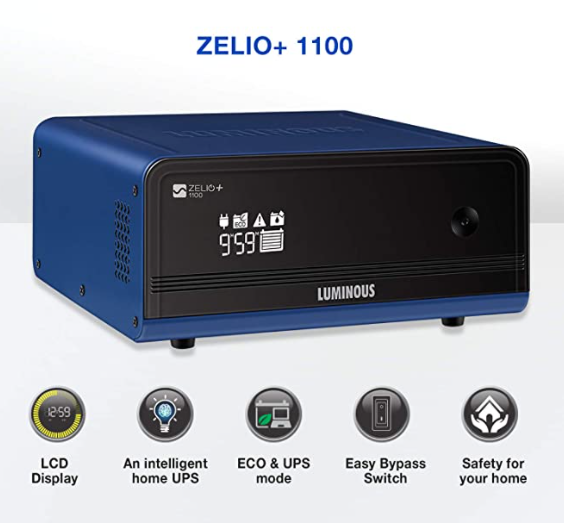 Priced at ₹6,099 the Luminous Zelio+1100 is a 12V, 900 VA capacity inverter with a max bulb load of 756 watts. It's a pure sine wave inverter with a 32-bit DSP processor onboard making it a highly intelligent backup unit and comes with a 24-month warranty. It is the best inverter for home if you are looking for an inverter that offers the most in its price point.
Features:
Pure sinewave technology makes it safe for sensitive appliances
MCB for protection from input mains
Smart LED display for power backup/battery charging time status
Bypass switch for supplying output directly from grid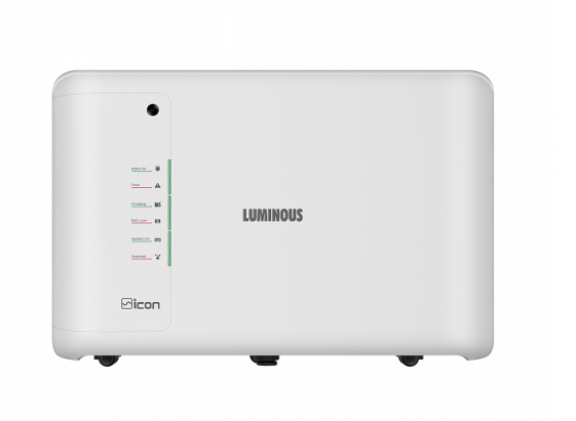 Built for modern homes the ICon 1100 comes for a price of ₹11,500 and is built on pure sine wave technology. The battery has a capacity of 900 VA and a rated power of 756 watts. The inverter supports a wide range of tubular batteries ranging from 150 Ah-220 Ah and features a groundbreaking design for an effortless battery water top-up.
The best part is its aesthetic design which encapsulates any battery in the battery resulting in no open wires making it incredibly safe for households with kids, topping the list of the best inverter for home.
Features:
Pure sine wave technology
Supports tubular batteries from 150 Ah-220 Ah
Comes with 24-month warranty on electronics
Easy water top up due to a revolutionary design
Fast Low voltage battery charging starts at 95V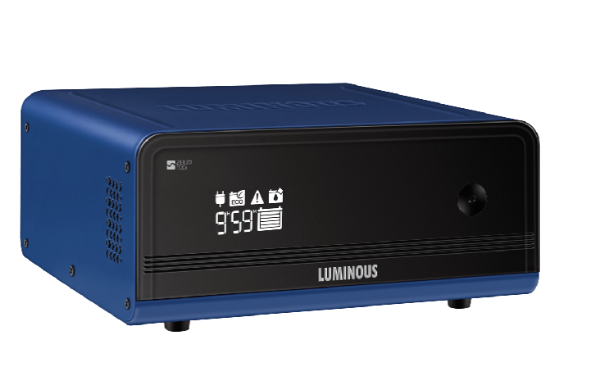 The Zelio 1100i is a 900 VA battery with a rated power of 756 watts and comes at a price tag of ₹6,490. The battery supports a single battery and comes with a 24-month warranty. It's a smart inverter with Bluetooth connectivity and allows you to control the inverter and monitor statistics using the app on your smartphone. It has a completely noiseless operation thanks to its low harmonic distortion and supports a wide variety of batteries.
Moreover, the inverter's inbuilt MCB protects from input mains and is great for elimination any risks of an internal short circuit, making it one of the best inverter for home.
Features:
Pure sine wave inverter for efficient performance
Intuitive and easy to use interface
Bluetooth connectivity for easy access to stats via app on your smartphone
Supports multiple battery types such as tubular, flat plate and VRLA (SMF)
Offer MCB Protection
Comes with 24-month warranty
Luminous' products have an excellent track record of delivering exceptional performance even under the most challenging conditions and are known for their extended service life, low-cost maintenance, and exceptional value for money. They all come backed by Luminous' industry-leading after-sales service and customer support.
If you are planning to get an inverter then here are our top 3 picks. So, go ahead, it's time to get the best inverter for home that will have you covered during power outages for years to come!