Crop top ideas – Busted is the myth now that crop tops are only for the hourglass figured ones, even the voluptuous women too are now pulling off crop tops like a boss.
Crop tops are best having paired with high rise jeans or palazzos when you are going out on a date with your man. Crop tops are cute, sexy and statement rolled into one that bring out your sunny side effortlessly. But then, you can't bind fashion in limits, there has to be an array of options in every area and so do the crop tops, based on your comfort, preference and style statement, varied types of crop tops are. What we are going to discuss here is which crop top style will be your bae as per your zodiac sign and here are they:
Crop top ideas –
Aries and Capricorn:
Aries women are governed by fire, she is intensely passionate and is the seducer of the love game but her lover has to live up to her expectation or she loses interest. On the other side, Capricorn women are gravitated towards anything challenging but they are very caring. So a Fuscia coloured crisscrossed velvet crop top will be fit to match their burning passion.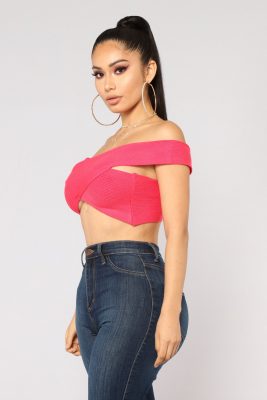 Taurus and Aquarius:
Taurus women are very stubborn with a fiery temper but they are the best balance makers who are passive and feminine signs. Aquarian women are easy-going in the outer shell but in the inside, they are filled with force and power which can be a little intimidating when you come into contact with her. A halter-sleeved and lacy crop top will be hence commensurate for both of them to match their personalities.
Gemini and Pisces:
A gemini woman loves challenges and never loses sight of her goals. One minute she is coy and doting, the other minute she is inexplicably sarcastic. On the other side, Piscean women is a true dreamer and a caring lover.  She is pathologically faithful until her lover keeps her intrigued. She is very calculative and smart when it comes to navigating her life decisions but at the same time she is like a kid who wants to be pampered too. Since both Gemini and Pisces swear by simplicity and keep their emotions bottled up, a simple black crop top matches their personality all right.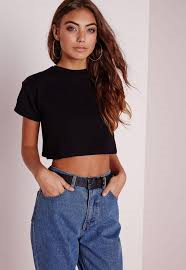 Libra and Cancer:
Libra women vie for balance in life, she keeps on questioning her ability to be in love and gasps for taking complete control. She may seem weak and passive but she is very liberal. Cancer woman can't keep her motherly instincts at bay when she falls in love. She will even put her own satisfaction at stake when starts pouring her affection. She is a giver and hence emotionally vulnerable. Both Libra and Cancer are peace symbols who are great lovers so a sexy ruffled crop top will be symbolic of their passionate side.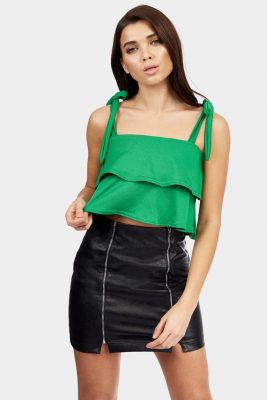 Scorpio and Leo:
She is often misunderstood and people run away from her as a result. Her intensity is bottomless when she jumps into a relationship and sexuality is an indispensable part of her loving. She is caring, protective but when hurt, she can transmute into your great enemy. A leo, on the other side revolves around her partner when in love to make him feel special. She gives her man everything ranging from her soul to her body and will want to fight, make up and make love while ending up in the warm embrace of her man. Orange is the colour symbolic of burning passion hence an Orange crop halter crop top will go down well with them.
A woman's personality is nuanced. She is the supreme power behind making or running a man so she only deserves the best. These Crop top ideas, we think are best suited for the said zodiac signs.