Longest Bar – India is a land of wonders and there are a lot many things that it boasts of.
Indian urban life, however is not held in as high regards in the world forefront but after an avalanche of new bars, restaurants, malls and pubs introduced, India proved that it had a sword hidden in its pinions that could throw other high-brow cities of the world out of gear in terms of lifestyle. When someone from the West talks about Asia, the first countries that cross their minds are China and Japan that are years ahead of our time in the merits of advanced lifestyle.
But the gradually adulating lifestyle standards of Indian cities are now really living us in awe.
More urban youth are now inclining towards happening nightlife to unwind during their weekends.
Mumbai, in that respect is a few steps ahead of other Indian cities because it never sleeps and has been breeding thousands of skylarkers everyday. But then the pubs are becoming thickly crowded that is taking toll on the swiftness of service. In only handful of times you will go to a pub, order a drink and be served in a jiffy. You will have to dodge past a swarm of people to get the bartender's undivided attention for 5 minutes and finally get him to give your drink.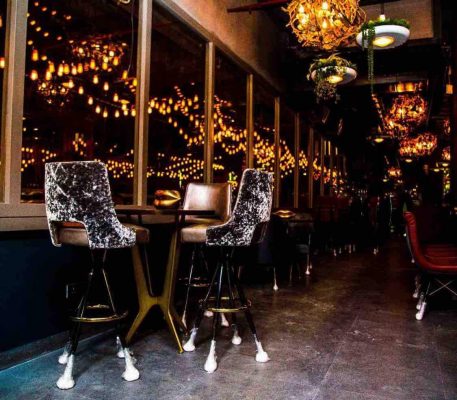 Mumbaikars needed a breather from this misery real real bad and lagta hai bhagwan ne hamari sunli. The second outlet of Lord of the Drinks' has opened up in Kamala Mills with a 210 feet long bar. This is the news of a lifetime and the young guns can't keep calm. Guess how it was commemorated? The good folks at the LOTD actually made a larger Domino of 500 shots which made for an enthralling sight that would get etched in your memory.
The Longest Bar is quite a sight to behold, in a word, spectacular and the food made the die-hard foodies go bananas. This is your place if you are a bigtime foodie and shopaholic because it inundates you with a plethora of options that you can lay your hands on. Here's one more exciting insight for you about the bar, it was designed by the legendary Rocky Star which made it radiate excellence from every which angle. The décor is really sassy and makes you coming back for more.
Longest Bar – The biggest draw of this place is that it has a global menu by Rocky Travel diaries from around the world. So you are already hungry, we presume.