Rusted ships are always seen in the areas near the seas and oceans. Old and exhausted parts always indicate the presence of water. But it is not possible to believe that the rusty ships can be seen in a desert. Hereby the Moynaq desert is a place where the rusty ships are seen buried in the sand. The ships are left behind on the pools of sand where there is no existence of water.
The landscapes of the rusty ships are seen in Uzbekistan, shining brown under the beating heat of the sun. What does the presence of the ships indicate?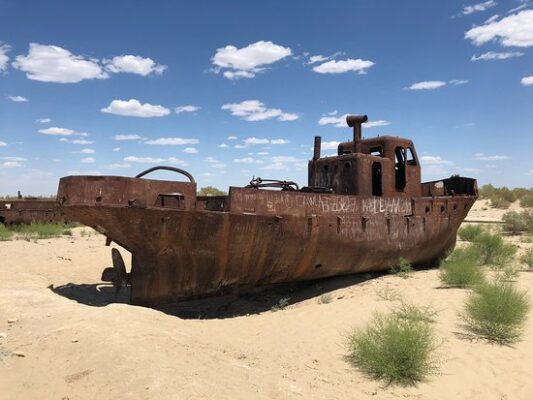 Rusty ships remind of the Aral sea that converted to Moynaq desert
The sea existed about a decade ago, it is was in 2010 that the water dried up and it turned into a scorchy desert. Drying up of the water body started in 1960 and slowly ended up remaining as the Moynaq desert. It stands as a remote place of Uzbekistan that needs a travel journey of at least a day.
Whoever can visit there mentions the ships, that look weird in the sand. It reminds me of the history and the disaster that led to the disappearance of the Aral Sea. Sharing the sea with Kazakhstan was one of the best spots for fishing. It stood as the fourth-largest lake that was an attraction for catching fish, making it the supplying industry for the Soviet Union.
The end of the fishing spot supplies and relives the memories of the Aral seawater, these rusty ships remain in the mid of the desert. These ships once sailed through the water thriving for fish and providing business to several people.
Why did the rusty ships remain there among the desert?
As the Aral lakes started drying the fishes reduced and so the use of the ships was slowing down. After the drying up of the water, the ships had nowhere to go which were left beside. Over years the ships are in the Moynaq desert, its body has turned into rust.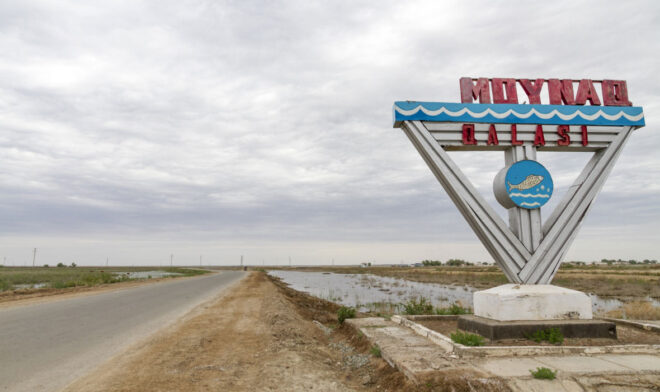 Aral lake is an example of a human disaster, that shows the intense misuse of technology over nature. The beautiful and progressive ecosystem was to an end when due to the impurities and salinity increased in the seawater. According to the studies, the salinity was extreme to 376 g/l compared to the normal seawater of 35g/l.
Over the 60 years of use of seawater for extensive agriculture and the increasing pollution in water led to drying of the seawater. The rusty ships symbolize the destruction of the sea that cannot be recovered. Diversified ways to make dams, irrigation, and another flowing of water led to end up the lives of the sea. Above all the salinity of the water has damaged the soils, making them infertile. The soil is of no use making the entire area unusable for planting and agriculture.