Every Hindu house has a basil plant in their house. Though it is believed that it is a sacred plant, also necessary for rituals at home. Also for regular puja or early morning offerings to Sun, pouring water ensures a spiritual outcome. Not only offering prayers but the leaves are added to the food offerings to the temples and worship places at home.
The energy vibes from the plants are prone to grab positivity. Releasing away unwanted negativity from the surroundings and developing a happy livelihood is possible through the basil plants. Courtyards or terraces of each Hindu house have a base built with basil plants. The outcome of positivity through natural and ancient practices is still observed in houses.
Basil plant has many benefits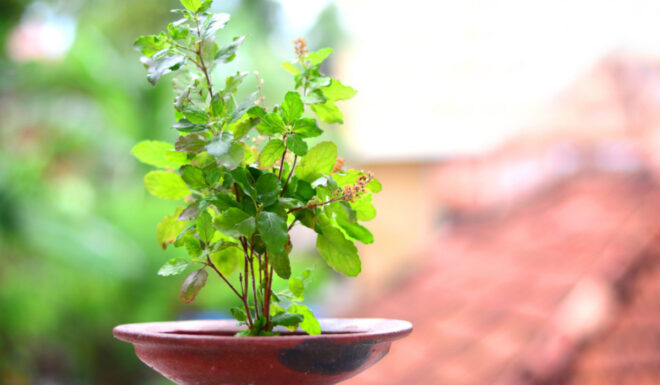 Stay away from negative energy
The human mind needs positive vibes around. But due to the various problems and mental struggles, it becomes often difficult to overcome the negative energy. If the mind is free from negative thoughts the home is happy and filled with positive energy.
Planting of the basil plant is mostly on a foundation or base. Few prefer to keep it near the temple or worship space of their houses. While some have it at their terraces, to ensure it settles at a supreme position. Ancestors have experienced the benefits and therefore these houses have the plant.
Boost the mood
Potted plants or base-built for plants are considered mood boosters. Nature itself is a healer, therefore, the presence of the basil plant is believed to be holy and works to keep peace in the family. Peace of mind in each family member encourages happiness and enables to keep them together.
The presence of the tulsi plant improvises the mood of a person. It provides relief from anxiety and stress. It is the reason every morning the plant is worshipped, a few chant mantra. It provides spirituality that the worshippers can realize.
It is a symbol of luck
No doubt hundreds of years old houses have a space specifically for the tulsi plants. Therefore, it is the symbol of luck, so to welcome the good vibe and positivity with luck they believe to worship the plant. Apart from it, the basil plant energizes the mind and heart.  It connects the mind and the heart developing positive energies.
Planting natural elements inside the house always help to grow positivity. Living natural element helps in the growth of peace of mind.
It brings wealth
Wealth is necessary for a house to remove stress and increase prosperity in the house. It is the reason planting spiritual plants boosts health and wealth together. In less span of time, the home can realize peace and prosperity.
Planting of basil plant is mostly near the worship place as it is considered holy in Hinduism. Above all, it requires less care and grows easily on any soil type.