Women wearing fashion with an influence of gorgeous appearance is almost incomplete without stylish footwears. Ramp walks or walks on the red carpet the stilettos worn by the top celebrities. Young girls to old age all of them have a strange unbeaten weakness towards high heels. As it gives a boldness addition to a glamour that is itself a statement to women but can you imagine it as in Men's Fashion.
In parties or wedding ceremonies women find themselves in their best with the heels. Hundreds of years ago shoes were known to be only for men. It was a symbol of status and style together for men, there was no sign of women wearing it.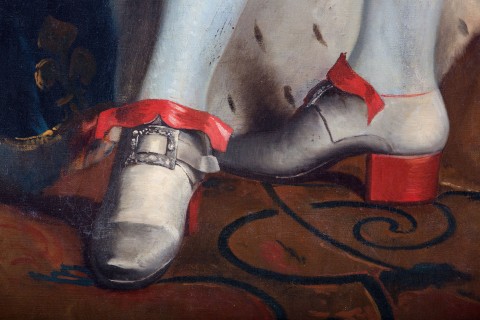 High Heels in Persian men's fashion in 10th century
The beginning of high heels was from Persian men's fashion in the 10th century. The reason was to increase their height while shooting bows and arrows. It helped them to maintain balance while shooting. Later these shoes turned to become their status symbol. From shooting the Persian soldiers and riders started wearing the heightened shoes. Along with being a useful gear to the soldier, it was a symbol of power and pride.
The heels were one inch high was attractively designed with changes in fashion trends for men. The shoes were stabilized by tying the shoes. Horse riders found it comfortable to ride with secured shoes. Later the demand for heels among soldiers soared and so parallelly the men's fashions in shoes.
Fashion twirled with spins of time
High heels were for Persian soldiers but with several years of twirls over time. The use of shoes was adopted by the women from men.  Footwear was essential seen in mural works that are known as a Patten. The Patten is a kind of sole that was worn by both men and women in the 1500s, later due to the need for high heels for military soldiers it was into men's fashion.
The shoes were flat to a height of one inch later it turned to become thinner and slimmer. In the 1700s the King Louis XIV of France was the person to put on shoes with high heels with 5 inches. But the conception of footwear had ended during Napoleon's time. Later in the 19th century, it returned but with fewer measurements of heel heights.
Women's shoe style and fashion multiplicity
In the 20th century with the ban of stilettos, there was a rise in the feminist revolution. In the 1970s square-shaped heels were reinvented slowly developed into various fashionable trends. Different stylish footwear was seen along with the high heels. Sandals, flip flops, ankle shoes to varieties of branded to local shoes, footwear are designed for women. In the present day, both men and women wear heels, these are mostly encapsulated for women. Square-shaped heels to one inch are worn by men.
High heels are that were once men's fashion during the 1700s are now enrolled as a sign and symbol of beauty as well as status.