Navratri craft ideas – Navratri is knocking at the door and we are gearing up for it with new clothes, gifts for our loved ones and plans in mind how to make most of it. In Indian subcontinent, we take extra care to decorate our humble homes come festivals and it is a land of festivals not to mention.
Navratri is, for that matter, most coveted festival across India as in these nine days, we worshio goddess Durga, the symbol of purity and strength. It is believed among the Hindus that worshipping goddess Durga insures us for lifetime prosperity. Offering heartfelt devotion to her helps us ward off the evil eye and we get lifelong riddance from detrimental diseases.
While Navratri is just waiting around the corner, we are rolling up our sleeves to decorate our homes and welcome our guests. Everyone wants their homes to stand out in terms of the decoration and we all run short of ideas. There are many DIY Navratri craft ideas that would make your home beaming with beauty without lacerating at your pocket and here goes some ideas from us:
P.S: we just make sure that all of these décor ideas are kid friendly and extremely affordable.
Navratri craft ideas –
Wall Frames:
Wall frames can immediately put you into the festive spirit. If you have a vacant wall, liven that up with a Durga motif or mural especially made from threadwork. This will work wonders by filling up the wall and making it stand out. The colors will make your heart aflutter also and soak your house with all things divine.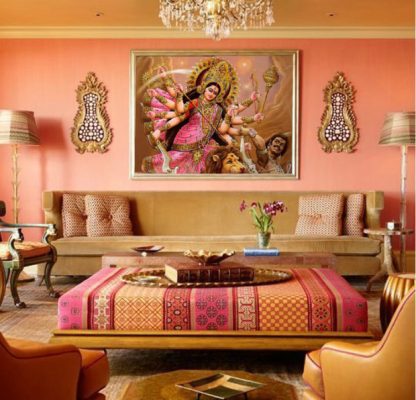 Rangoli:
Although this is a template example but you can experiment with the patterns. A Rangoli makes your home look colorful and effervescent. If you have a keen eye for detailing, you can also try creating a figure relevant to Navratri such as Dandiya couple or a Diya.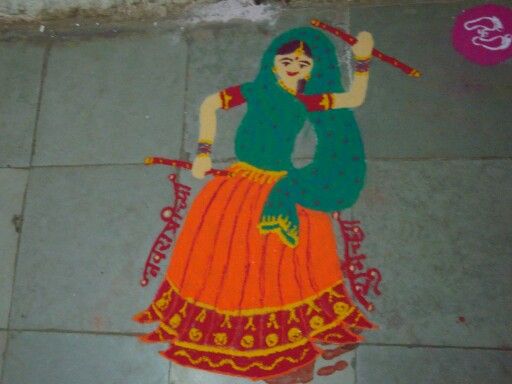 Lights and Lamps:
Let there be light, let your house flood with heart-warming lights and keep the evil at bay. Because lights bestow positivity in your life, you can invest in some good lamps or make them yourself which will not only save you money but will bring your aesthetic sensibilities to the fore. Follow this video for inspiration.
Make DIY cards:
You can go all creative with the cards. Cards are required to invite your guests for the Navratri party in the home and if you have some time at your disposal, you can make awesome handmade paper cards with motifs relevant to Diwali that will add extra warmth to your invitation. You can also keep your kids engaged in creativity like this too.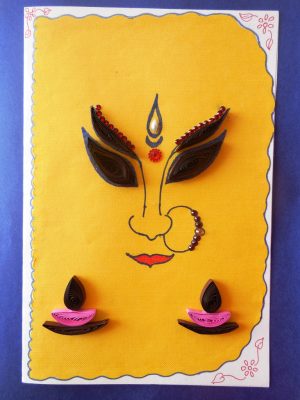 Earthen pots:
Earthen pots have the old world charm that add a cozy accent to your home. You can paint some earthen pots in different shapes or use m-seal to make petals. Decorate your center table with these along with flowers and you won't be able to stare off.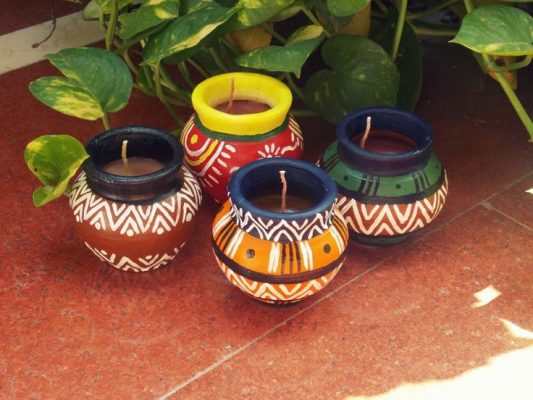 Earthen pots wall hanging:
Go some extra creative with earthen pots by preparing wall hangings out of them. Paint them in different colors and join them together with a nylon rope. You can try coloring the rope of wrapping them up with handmade paper too which will make them look more colorful. Hang them at the entrance of your house to lure the guests.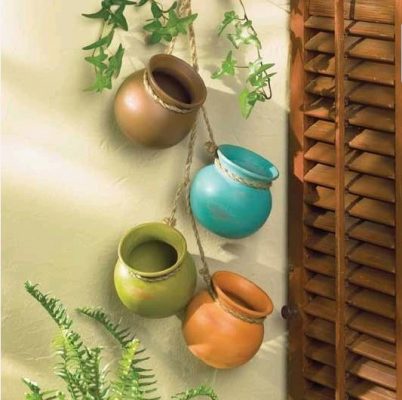 These are Navratri craft ideas – These décor ideas are absolutely chic and affordable. You should try these our this Navratri.