Don't lose your sleep over it. Just give it sometime or nail down the problem.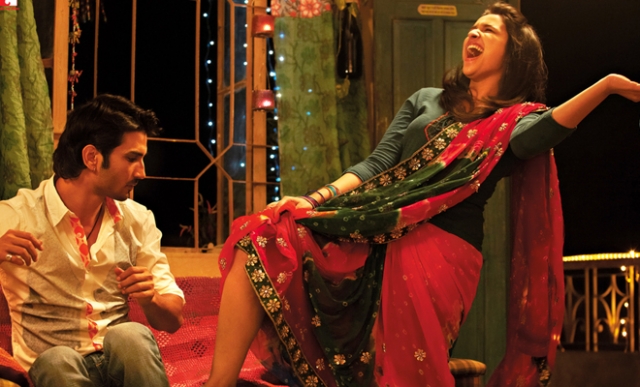 A still from Shuddh Desi Romance, where the lead pair was confused if the love was for real or not
It has been quite a few months that you have been dating her and you still can't make out if she has any plans to stick on with you. Well, as they say that you can never understand a woman completely, it is also partly true that she may not want you to. Atleast not now. When it comes to opening up to the man she has just started hooking up with, a woman is generally skeptical and will closely watch your every move and your smallest reactions to what she says, and does. While you may be getting impatient about knowing what lies deep in her heart, the best way to put an end to your anxiety would be to give it some more time. Whether or not she ends up being in a more-than-casual relationship with you, she is definitely thinking about you – good or bad.
If you are serious about the girl, wait it out and if you are unsure, take your time and go easy and steady. Rushing into anything without giving it the time it needs to mature only ends up in dissatisfaction and regret. Consider this situation: you can't deal with your excitement anymore and you have asked the girl if she is ready to tick on with you for long. She says yes, still doubtful about her feelings for you. And you both enter a vulnerable, shaky, uncertain terrain. The result, in most cases, would be that you grow exceedingly suspicious towards each other.
To avoid getting into such a predicament where you can't decide whether to carry on or call if off, it is always better to be clear in your mind about the girl. And if you think that you are sure, you need to give her time as well. Mostly, It should save all the trouble, but if you have a doubt that your girl is commitment phobic, you need to nail down the issue.
There are times when unknowingly, we fake our feelings and love towards a person, because we never introspect and sit down with ourselves to analyse our feelings. The girl may not be doing it on purpose. She could also be lying to herself. Though it may take some time for both of you to finally come face to face with the truth, there are certain signs that we generally tend to overlook, that indicate something. Watch out for those subtle signals that speak volumes of what the other person is thinking.
Even after spending a lot of time alone with each other, you don't feel any depth or pull in the relationship. Mainly because it has appeared to you that the girl always tries to hide something. While it could be because she is still hesitant, she might not be willing to show you the true picture, on the other hand. And no one better than you will be able to judge it. You just have to look for genuineness in small things. For instance, she doesn't shy away from eating to her heart's content in front of you, she tells you frankly what she likes in you and what she doesn't, and she has never hidden her social and economic background from you, if that matters.
The quickest way to know if you should get serious in a relationship or not is to realise if you are able to talk freely to the other person. If the free-conversation barrier exists between the two of you and you have to think repeatedly before speaking to each other, then you should take a step back. You wouldn't want to imagine your life with a person you can't talk to.