The nation is angry and appaled, once again! But, how is that going to change anything for the one who has been marred with not only physical and sexual but also grave psychological assault.
Doctors said the woman has suffered multiple internal and external injuries and her condition is critical, but stable. So far the police have detained twenty people based on the sketches that were made and Maharashtra home minister R R Patil visited the victim and promised that the culprits would be arrested soon.
The cops said that among those rounded up for questioning are some known drug abusers in the area. Rapes in India have been inspired by illiteracy and gender inequality.
The incident is very much implicative to the spine chilling and horrific gang-rape took place last year in December, when a 23 year old medical student died of multiple injuries after being gang-raped by six men in Delhi. The incident incited protests calling on the government to take up stern measures for the safety of women. The driver of the bus, who was the main culprit in the attack, was found hanging in prison. So, do we wait for the culprits to end their lives in shame?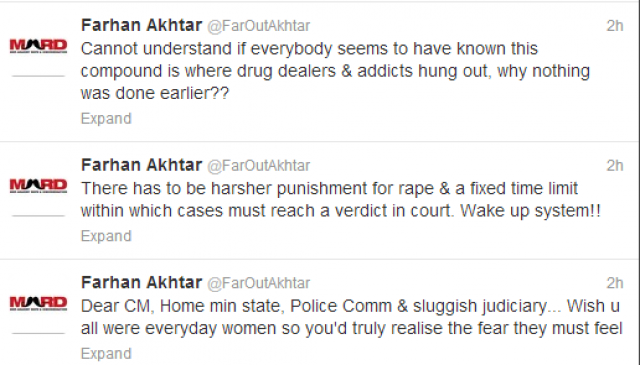 As per the reports, in 2011-12, 207 Mumbai women were raped and 552 were molested. The year in our 'safe' city had seen a rise of 15% in cases of rape and 14% in cases of molestation.
Rape is embedded in three reasons. It is mainly a foundational issue, the failure of social norms, from the family to schools, to exercise control. People then behave like loose cannons. They may have attended school, but that is not education, that is literacy. The start of moral education begins from the family.
Attitudes against rape are held back by older ideas. In 2009, a Goa congressman said that women invite rape by socializing with strangers. In 2011, the police chief of Andhra Pradesh has attributed the increase in crime against women to the dress they wear. In April 2013, a Congress leader in Madhya Pradesh made sexist remarks that women invite trouble by looking at men in a suggestive manner. He said 'Jab tak mahila tirchi najar se nahi dekhegi, tab tak purush use nahi chedega'. I would like to ask them what explanation they have for the rape of three-five year old girls, do they socialize with strangers or they wear provocative dresses or they look at men in a suggestive manner?
Another reason is the police is not in step with the society and is way behind. Statistics hide information. Statistics state there is only a minor increase in rape cases. But barely anyone reports them.
Then follows the stigma against survivors and the longing to marry virgins further dispirits the reporting rate. Many victims who gain the courage to report are subjected to the mortifying 'finger tests' by doctors, who check out not only for signs of assault, but also virginity. What is even worse is that though rapes are reported, but the conviction rate remains as low as 25%.
The trauma is not just restricted to rape, besides that, women in India bear from an intensely patriarchal society. As per the Indian Council of Global Relations, most women are victims of sexual harassment in public.
A UN index measuring gender disparities in education, employment, health care, political representation and more ranked India 134 out of 187 countries, even below Saudi Arabia and China.
India has strict laws against marital rape, sex selective abortion, and dowry, but still these practices are prevalent in the society.