A fast track court's verdict on the Dec 16 gang-rape has definitely restored our faith in the judicial system.
When Delhi braveheart Nirbhaya was brutally violated by six men on a chilly evening in December last year, the entire world wept with her and for her. There were morchas, women's rights petitions and an uproar from the media and society. And when the 22-year-old physiotherapy student breathed her last in a Singapore hospital, our helplessness turned into rage.
We wanted the government to react fast, take a strict action and sentence the accused to death. Looks like our prayers, anguish and persistence has paid off. In one of rarest judgments in the history of Indian law, a special fast track court in New Delhi sentenced the four accused (Mukesh (26), Vinay Sharma (20), Pawan Gupta (19) and Akshay Singh Thakur (28)) to death on Friday.
This act by the additional sessions judge Yogesh Khanna has restored our faith in law and order. The shocking and shameful incident had raised concerns about women safety, which have been put to rest by Khanna. The verdict has come out after a nine-month long trial and we don't know how much longer it would be before the four accused are actually sent to the gallows. But all we are saying is 'better late than never'.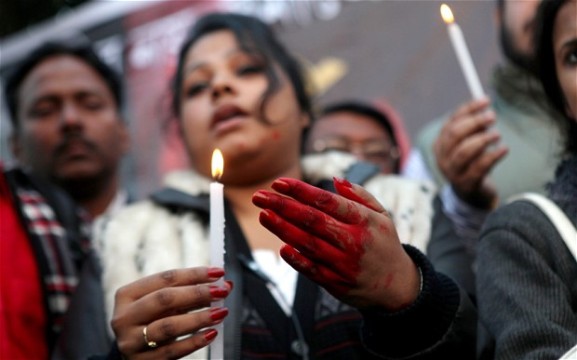 This verdict will never bring Nirbhaya back, but it will certainly make potential rapists think twice before committing this gruesome act. Now that people know that they can't get away with rape and murder, they would shudder before approaching a woman. In a way, this verdict has made women across the country feel safer about themselves. There's nothing we can say to the mother who lost her daughter to such animals. But we are glad the lady has found some closure and would be able to live the rest of her life peacefully. Many would argue how we are not Gods to give the capital punishment. But looking at the alarming rate at which crimes against women are taking place, an eye to an eye seems to be the order of the hour.
In December last year, six men gang-raped Nirbahaya and assaulted her male friend after luring them into a bus. One of accused (Ram Singh) committed suicide while serving term at Tihar, while the unnamed juvenile was sent to a reform home for three years.
Let no man feel that he can get away. That he can violate you, snuff your life out, disgrace you and continue to enjoy his life. No, he can't. If he rapes, he will be hanged. Till death.