Why is Anna Hazare on a fast for Lokpal Bill yet again, this time in his own village at Ralegaon Siddhi, near Pune (Maharashtra)?
Why is Anna Hazare on a fast for Lokpal Bill yet again, this time in his own village at Ralegaon Siddhi, near Pune (Maharashtra)? Where is the Lokpal Bill pending for which the country has been agitating and demanding since last 3 years? This is even after the Parliament passed a unanimous resolution on in 28th August 2011, and the Prime Minister sent a personally signed letter to Anna, conveying the sentiment and a written commitment that a strong Lokpal bill shall be passed!
Why then has the bill not been passed yet? What is in the Lokpal Bill which is threatening that it has been held back? When many bills have been rammed through the Parliament? What if it was in place even in the past one year? What difference could it have been made? What has been going on in matters of serious corruption cases? Why India's premier investigating agency was called a 'caged parrot' by the Honourable Supreme Court of India?
Today as you read the Lokpal bill is back on the agenda of the Parliament.
What does it hold for us now? Can we begin with it and then improve it as we go along. I believe we can this time. For the key elements listed below (as of now)…
1. Beginning with the appointment of the Director of CBI. This was earlier totally a government appointment. By the new bill, being tabled in Rajya Sabha, and as cleared by the Government on the recommendations of Select Committee is to be a collegium comprising of Prime Minister, Leader of Opposition and the Chief Justice of India.
(People wanted this and got it)
2. On the Selection Committee for Lokpal Members. Recommended by Select Committee is, Prime Minister, Chief Justice of India, Leader of Opposition, Speaker of Lok Sabha, and an eminent Jurist to be appointed by the President on the recommendation of the Selection Committee).
3. Lokpal would have eight members. 50% from Judiciary and the other four with expertise of law, investigation, finance, vigilance, anti-corruption etc. Also with due representation from SC, ST and women.
4. The CBI will be overseen by Lokpal in relation to cases which are referred by Lokpal. This means all matters which are referred by Lokpal to CBI, the latter will be directly reporting to lokpal only. Hence it stands insulated from any form of external political interference.
(Hence no more interferences from Law Ministers of the kind which happened earlier)
5. CBI officers investigating Lokpal cases will be transferred by government with the prior approval of lokpal— (A unanimous recommendation of Select Committee but NOT accepted by Government. This is open to amendments in Rajya Sabha still) (However once the Lokpal starts functioning with eight eminent persons it will not be easy for the government without justified reasons to take arbitrary decisions)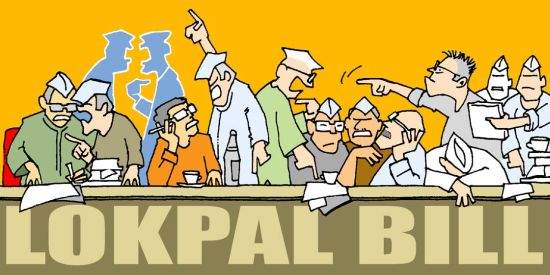 6. CBI also will be free to appoint its own team of lawyers with the consent of Lokpal. Currently it's a very bureaucratic route!
7. CBI shall have Directorate of Prosecution under a Director who shall be under the Director CBI. (This too is a major improvement. Law officers come in from Law Ministry)
8. The government shall provide all such expenditure, which is in the opinion of the Director of CBI, as it is necessary to conduct a fair investigation. The Director of CBI will be responsible for all expenditure sanctioned and spent for the conduct of such investigations. (It cuts out all existing red tapes, and makes Director CBI as head of his own organisation, which he has been asking for a long time)
9. There shall be an enquiry and an investigative wing too, which enables Lokpal on receipt of a complaint to decide whether to get the complaint inquired into, or order investigation by any investigation agency, even besides the CBI!
10. The government however has proposed that prior to this, the government official be given a hearing. This matter too is open for amendments in Parliament. Several want this hearing as a discretion and not mandatory.
11. Another important change is the issue of sanction from government before proceeding with the complaint concerning a government servant(not needed now). It has been agreed and accepted by the Government that while considering the investigation report, the 3 member Lokpal bench shall obtain comments of the competent authority and the concerned public servant.
12. The Prime Minister is included with certain exceptions such as public order, space, defence matters etc. but not the Prime Minister's Office!
13. The lokpal can be removed by the President after a Supreme Court inquiry on a reference from the President on a petition signed by at least 100 MPs.
14. In case of a false or frivolous complaint those made in good faith should not be penalised.
15. The Lokpal Act to be a model Act for all the States to pass Lokayukts within a year. Many states till now do not have one. We may begin with this Lokpal. Improve it as we go along. It will give provision for an independent anti-corruption system and open the cage of the 'caged parrot' , (the CBI) for larger prosperity of our country!
The Lokpal Bill is tabled today in Rajya Sabha and we wait to see what it finally does on Monday!