Twitterati Doesn't Spare Anyone!
And this time it's Aamir Khan..
So yet again our Mr Perfectionist couldn't control his tears.
You saw him crying after watching Bajrangi Bhaijaan, and this time he cried after watching Imran Khan film Katti Batti.
And Twitter made a joke out of it, all in good humour.
Some of these tweets were so hilarious, that you yourself would cry  after reading them.
Here's how Crying Aamir Khan went viral on Twitter.
Caution Alert: You'll die laughing reading these.
How well he defined towel use for Aamir!
https://twitter.com/gautamverma23/status/635759793903300608
Now you know Aamir's whatsapp status!
Aamir Khan's whatsapp status – 'last cried at'

— abhaywadekar (@abhaywadekar) August 24, 2015
He is perfectionist even in crying!
Aamir Khan showing different emotions now a days…..!!
. pic.twitter.com/UPXzfazPbD

— Krishna (@Atheist_Krishna) August 24, 2015
Now Pushpa will know why we hate tears re!
Aamir Khan about to drown in his own tears pic.twitter.com/uNFwo5Cjn2

— Champ McStark (@BolshoyBooze) August 24, 2015
Roya re!
Normal people : See ya.
Aamir Khan : Ro ya.

— hai (@iDownager) August 24, 2015
Aamir ko rona kyu aata hai?
https://twitter.com/gautamverma23/status/635724182118989824
And then Tanmay Bhatt comes and hits a boundary with this tweet!
What if Aamir Khan is just allergic to watching movies?

— Rohan (@mojorojo) August 24, 2015
So now the nation wants to know Aamir Khan ko itna rona kyun aata hai?
And may be this is the answer to the above question!
God has created Aamir Khan and sidhu to maintain the equilibrium on earth..😭=😂 #crybaby

— Nitika Rathore (@niceniti) August 25, 2015
Arvind Kejriwal made muffler famous and now looks like towel is getting famous because of Aamir Khan.
This gif perfectly shows why!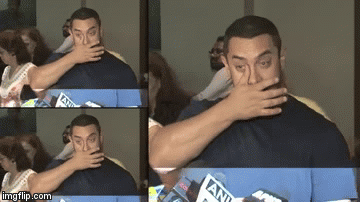 Well who said boys and men don't cry?
It's good to express your emotions sometimes, don't you think so?
All this in good humour, everyone knows what a fab actor Aamir is and we don't mind him crying after movies, at least it keeps Twitterati busy 😉