Hilarious mannequin – Mannequins lead terrible lives.
They are made to stand for hours looking at the flocking crowd, some of which stop by them to check the clothes or accessories the shop owner has put on them for display. It is 'Waiting for Godot' phase that mannequins have to undergo everyday they will probably look at you in blank amazement on being asked about where they see themselves in five years down the line, the answer is preordained, right there they are currently stationed in, probably in different clothes.
However, people also ruthlessly make fun at the Mannequins' expense and here are the pictures that prove how Mannequin fails have so far brought laughter riots:
Hilarious mannequin –
She had her Marilyn Monroe Moment all right:
Well, this Mannequin seems to have had her shot of fame by pulling off this Marilyn Monroe pose. Probably it was lately possessed by the spirit of her and we can't blame on the manufacturer to make her stand like this. Only one things, that we see is missing in there is the gushing wind that made Marilyn look like a diva, Well, in comparison this Mannequin is our Pooja Bedi from Jo Jeeta Wohi Sikander trying to replicate Marilyn and miserably failing at that.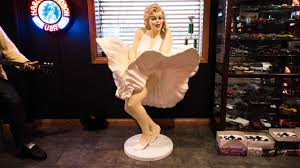 She was too bummed:
Looks like being an onlooker to the legends of fax pas is a pretty draining process. Well, no can understand someone else's miseries unless the undergo the same situation and we can only offer sympathy to her. She needs a Red Bull it seems which may not give her wings to fly just yet but boost her up for the time being it seems.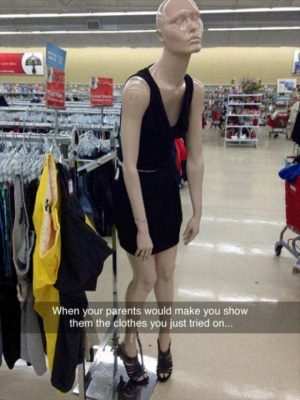 So all these years Mannequins were assembled in the wrong order:
This reminds us of the tear-jerking Mannequin scene in 'Isha' where her assets were arranged in a order that defied nature's archaic norms. Well, this Mannequin manufacturers seems to have adhered to that code of conduct and now we know all these years people have been doing it wrong.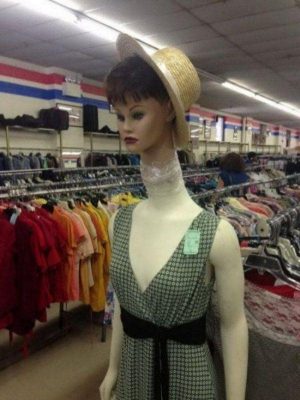 This Mannequin is open for captioning:
Is that a warrior? a soldiers from the gladiator? and if seen from below, it could give any model run for her money, whoa! look at the blue mini skirt. This is a new fashion statement the Mannequin is pulling off, or perhaps the shop keeper strategised it to save money. Who would invest in two when you can sell different stuff by one?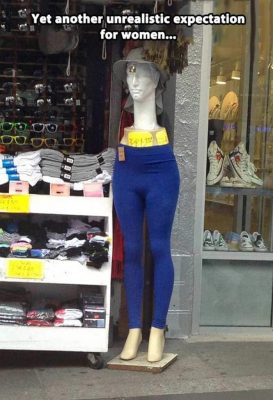 Who can stand rivals, neither does a Mannequin:
Look the victory-glamour on her face and swag at her body language. These two looks like the protagonist from the 'Bride Wars', two friends-turned-enemies at loggerheads. So adorably cute, aren't they? Ahem, not as much.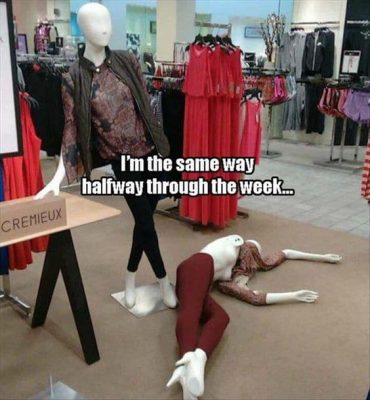 Look who's slaying there:
Look who is hogging all the limelight? those legs are downright drool-worthy. Oh boy! That swag comes from days of hard work being fructified. We completely are besotted by her. Take a bow, girl.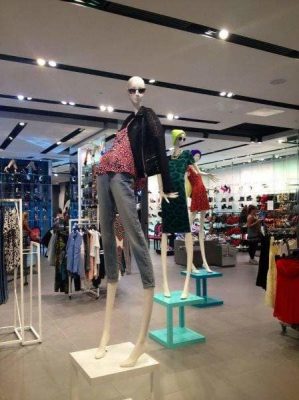 It sets different standards of modelling:
It also shows you how the clothes would look at you if you sprawled on the floor. It is taking modelling into a new level and we really salute the hard work and out-of-the-box concept.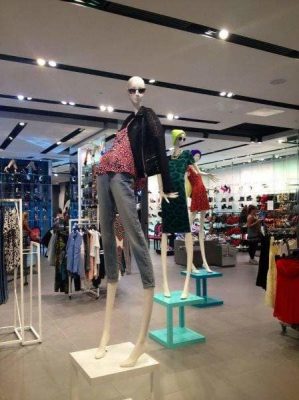 These are hilarious mannequin – As kids, we found them scary, but now they are giving us laughter dose. Growing up is good.