Indian Trucks – As the legendary author Rabindranath Tagore has rightfully said-" Life and death are slaves stopping at your feet and your mind is free from worries", it occurs to us that he meant the Indian beastly transport vehicles, trucks, in plainspeak, who rule the roost in the highways and pretty waywardly at that.
However, if the attitudinal disorder of the truck drivers is kept aside, they are genuine word wizards each and their creativity meets the eye if you look at the back end of the trucks. We are hereby referring to the quote-plates of Indian Trucks, ahem! The wisdom-plates if rightly put. You can't give them a miss in case if you are stuck in traffic and bored AF.
Laughter bubbles are sure to roll inside your stomach once you catch a glimpse of them. Here are some of such thigh-slappingly hilarious quotes written behind Indian trucks that can rip the meme pages off their repute.
Read on below:
"Main bhi bada hokar truck banunga"–
That made us go aww! Why not a mini-truck aspires to become a ruler or the road while Viru Sahastrabudhhe-ish fathers imbue the dream of becoming successful engineers in their son? Think about it.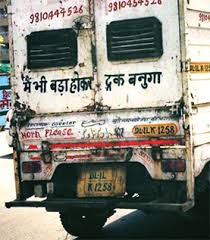 "Zara kam pee meri rani, bahut mehenga hai ishaq ka paani"
This is what happens when you listen to Pankan Udhas and Altaf Raja at a stretch, either you become an alcoholic or become a sadist. This marvel comes from a sadist truck driver who seems to opine against alcohol because it's pricey. No grudges to the National Budget Committee!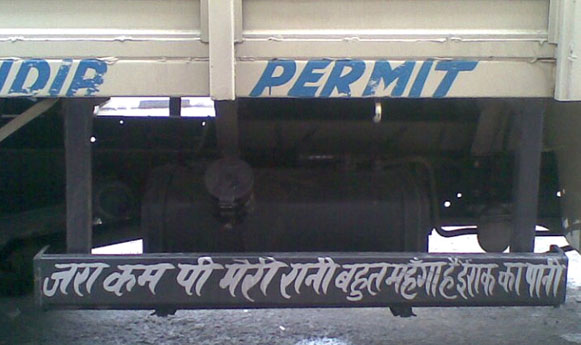 "Hum gundo se nahi darte hum shadishuda hai"
That is sexist. Well, wives can give the local goons a run for their money, but it is really mean to demean them in full public glare but this truck driver's wife seems to be way out of our league. Poor fella! Tch tch.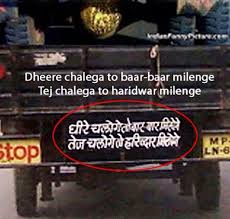 "Dheere chaloge to bar bar milenge, tez chaloge to Haridwar milenge"
You never know what will happen to you if you speed up in the roads. You can end up in Haridwar lifeless with your kin giving you your last rites. It seems that the driver is unapologetically sarcastic and his sarcasm wounds deeper than sword!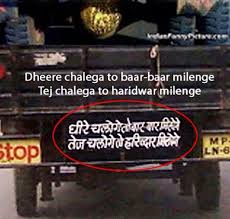 "Aye din bahar ke"
Once a Bollywood fan, always a Bollywood fan and this is how Bollywood fans wear describe the arrival of spring. No wonder, the truck has all the spring colours and the quote makes rightful justice to it.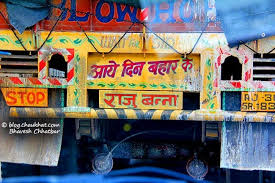 "AAP Party ki speed se na chaley"
Now that's really badass! Sarcasm of the next level that you can only expect from our Indian truck drivers. Hands down!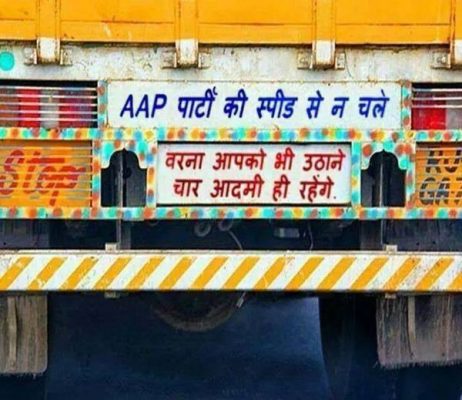 "Pakdega anti-Romeo wala, aisi jagah marega danda, sab bhul jaoge dil-vil, cheer-beer ka funda"
The road safety rules are taught all right, new term introduced to address the police, and anti-alcohol slogan rolled into one Shayari. This truck driver deserves an award!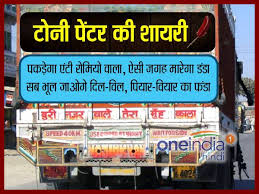 Indian Trucks shayari – Such bravado can only be expected from our Indian truck drivers and we can't stop laughing here. Are you laughing there too?