Sense of humour is sense of proportion and Abhishek Bachhan has that in plenty no matter if his Bollywood career didn't quite take off. There is no denying that he is a seasoned actor but it's the Indian psyche to weigh the star-kids in the same scales as their parents. Whilst some learned to make the cut no matter how rocky the pathway was, some like Jr. Bachhan got cornered for whatever reasons. But Abhisek's coup de grace was his spontaneous humour which compensated for his otherwise failed acting career. After all, making fun of oneself is a brave stance and in that case, Abishek wins our standing ovation.
Here are the 10 times Abhisek really left us in tears from laughing with his witty jibes on himself.
On the pretext of Aishwarya wearing purple lipstick at the Cannes:
Aishwarya Rai's purple tinted lips left the media pan and poke fun but she said she was cool about it and it wasn't a premeditated stance to win the media's attention. The L'oreal Brand Ambassador's witty husband gave it back to the trollers in his own way through a tweet which read " Now few are saying that I can't afford Apple, Hence Aish is eating Jaamun. This is too much, I got 1 kg last month".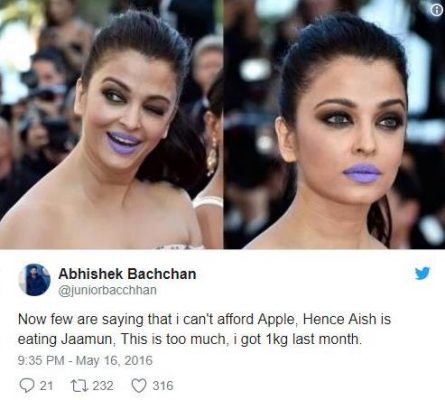 On the pretext of Om Jai Jagdish:
He shared a snippet from the Movies Ok channel where his movie Om Jai Jagdish was being telecast. While the little pop up window read the names of the star cast, his name got missing. He shared that with his fans in a really light-hearted manner.
On Madam Tussauds:
It's known to all that his wife's wax statue is the Asian tourist attraction in Madam Tussauds, London. He, instead of being the green-eyed-monster, took it on his stride and said "Madam Tusaauds guys came to me also, maine saaf saaf mana kar diya, 1000 rupaye ke liye main din bhar khada nahin rah sakta museum me."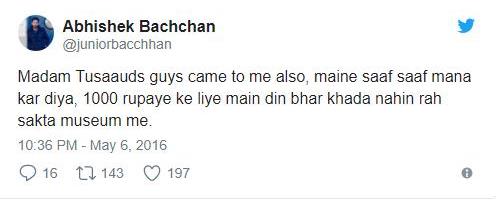 Chehra Pehchano contest:
Then came another self-mockery, "Just got featured in "Chehra Pahchaano Contest", but that idiot guessed that this pic is of Rahul Roy, that Idiot could have won 5k easily."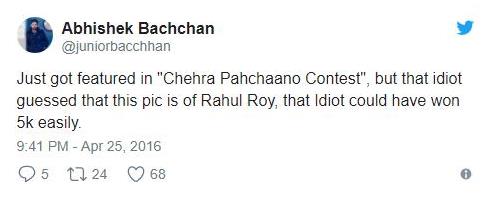 His winter days be like:
Abhi thandi ka matar chhelna khatam nahi hua thha, tb tak garmi aa gayi, ab cooler me paani aur fridge me bottles bharne ka kaam bhi mera 🙁

When Haryana Government recognized his talent:
"It's not only Padma awards which matters, Thank You Haryana government for changing name of Gurgaon to honor my character in Guru movie."

He made a point here:
We all hated that Airtel 4G girl who appeared out of nowhere between our favourite television programs only get on the nerves- "My family members & fans can tolerate 'Drona' movie even, but it is very difficult for them to tolerate Airtel 4G girl."

He is the true connoisseur of his dad's dialogues:
And here's the proof.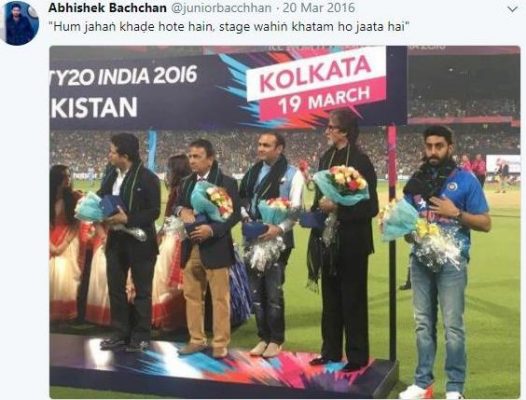 These remarks are kickass and we can't stop laughing!