Delhi's Dadi, a 94-year-old athlete has proven that age is just a number. Bhagwani Devi, from the Capital of India, won three medals as the World master's athlete. Her participation and winning medals including gold are encouraging. A way to spread positivity over the worst and hardships that people suffer during their lifetime. The strength to dream and live is the message derived from her wins as an Indian athlete.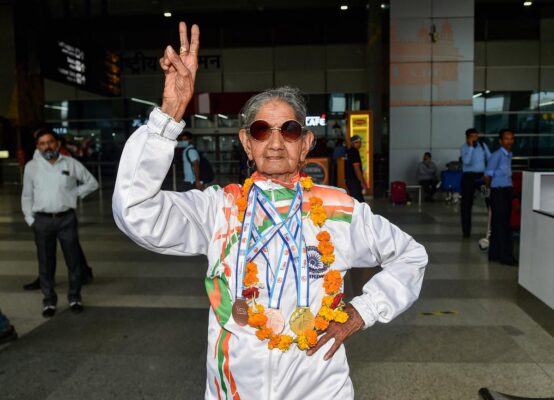 Delhi's Dadi her achievements at 94 years
It stands as a proud moment for India when Bhagwani wins her gold in the 100-meter race. Attaining the record of completing the 100-meter race in 24.74 seconds at the age of 94 years old. People at this age are found to remain bedridden, but Delhi Dadi remains among the extraordinary. She is a person who wants to survive a healthy life with an active mind and soul. Being the one, she is away from the crowd to snatch all the good and happy times, instead of wasting time on disappointments.
Creating a record as the oldest female to win as an athlete hails from Haryana. She studied till class five and above all from an early age was dedicated to playing kabaddi in her village. It shows that her interest in sports was from her childhood.
After winning and building a record she looks forward to participating in upcoming Championships. Her determination and fitness together make her the optimistic about successes ahead.
Old age minimizes the fitness of the mind and physical together. Surrounded by many problems, burdened with family issues, and above all suffering from critical health issues. But Delhi's Dadi has a precedent to show the value of living life healthy, at the same time fulfilling the dreams that were once shredded due to responsibilities and lack of opportunities.
Grandmother and her views towards sports
A grandmother who has no teeth, as she said did not smile in her photographs. Still, the absence of her teeth did not bring changes to her motives. Bhagwani has a routine fitness schedule that keeps her healthy and fit. Even at the age of 94 years, she walks 2 km every day and spends at least three days a week on her workouts.
As per her age, she cannot continue with strong workouts but carries out the minimum she can. Or else there are high chances of injuries, but she still climbs the stairs of three storied building. Without complaining about leg pain, inflammation or weakness she waters the plants on the terrace.
While mentioning her diet and nutrition, she eats food without restrictions. But she prefers and strictly takes home made food. Delhi's Dadi takes, chapattis, vegetables, and fruits, that is all healthy and nutritious desi food.
To bring back to the field was the inspiration of her grandson Vikas, a para-athlete. Even after undergoing the bypass surgery in 2007, she stepped into sports. At an early age, she lost her husband led to her giving up her interest in sports but later her grandson encourage her to return, standing in her 94.