The Real Hailie Jade Mathers – Where is Eminem's daughter now? What is she doing? What does she look like? Is she gorgeous? *Questions* *Questions* *Questions* – Finally, Hailie Scott or Hailie Jade Mathers stood up.
Yes, you read it right.
Since last few years, Hailie Jade is all over the internet. Yeah, they all might be FAKE ACCOUNTS, but this time she's real.
Once again, Hailie is all grown up. She is 21 Y.O and is undeniably gorgeous. Plus, she has her own style that can leave people mesmerized. Oh, actually she left me awe-struck, so everything that I'm typing is certainly pure. So, back to Eminem's gorgeous daughter, she is grown up to be a beautiful looking young woman and no matter what; she's just an average college going girl.
Yep, according to her Instagram account, she clearly states that she have neither any twitter account nor any private account. In fact, she lives a hidden life, as she has only 67.1k Followers on Instagram right now. No doubt, now the "Followers List" will increase automatically.
You can start following her by clicking here.
Wait, wait, hold on, before you do that, take a look at her stunning pictures. Frankly, based on her Instagram pictures, one thing is clear that she is not someone who keeps sharing pictures every now and then, but yeah, she makes sure to share only the best moments. (That's certainly good, right?)
There's a lot more that her pictures reveal – Take a look at " The Real Hailie Jade Mathers ".
Meet Hailie, Eminem's gorgeous daughter.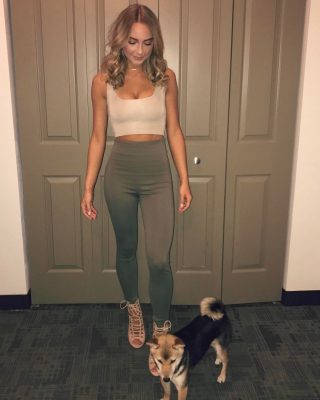 She has a LOVELY smile.