Benefits Of Almonds – Have you heard that saying "Badam Khane Se Akal Ati Hai"? It's very popular, so I guess that you must've certainly heard that one.
You know what; Badam i.e. Almond is really-really good. It has it's own health benefits and it's certainly a good nut to eat every day. No doubt, almonds are tasty. And undoubtedly, they're healthy too.
You should start eating them every day.
Before you do that, here are some health benefits of Almonds that you should know about. 
It improves brain power
Yes, like they say, Badam Khane Se Akal Ati Hai. Eating 5-6 almonds in the morning really improves the brain power. It contains Phenylalanine, which is a brain boosting chemical that aids the cognitive functions.
Strengthens bones
If you want to stay fit and strong, then eat 5-6 almonds daily in the morning. Eating almonds will strengthen your bones and you'll feel strong. There will be no point of weakness at all.
Nourishes skin
Surprising, right? But yes, eating almonds will indirectly nourish your skin. It is a great source of vitamin E in it and thus it helps in prevent the ageing signs. Other than that; it also prevents skin related problems.
Controls high blood pressure
Yes, almonds are effective and it can control high blood pressure too. According to thehealthsite, scientists found that eating an almond increases the amount of alpha tocopherol in the blood a compound that is key in maintain a person's blood pressure.
It has worked a lot.
Weight loss is possible
Weight loss is certainly possible when you've the habit of eating almonds every day. Other than that; almonds also reduces cravings and it also improves digestion. Thus, you should eat almonds every day.
How To Eat –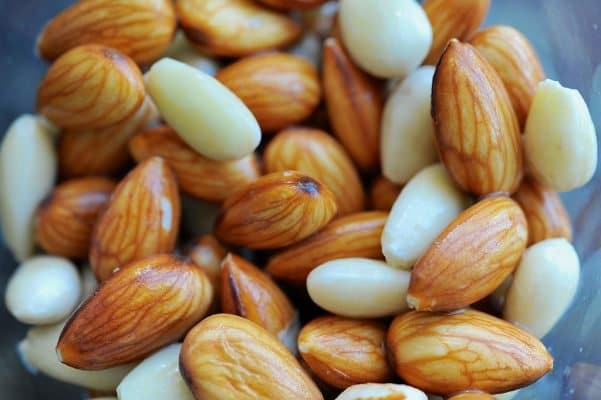 Now, let me tell you, that it's certainly very good to eat soaked almonds. Yes, this is how you should be eating it. When you eat soaked almonds, it becomes easier to digest. There are many people who eat soaked almonds and not the  raw one, because they know that soaked almonds are easy to chew and it's certainly beneficial too.
How to soak it – Fill a cup of water, and add 8-10 almonds into it. Cover the cup and let the almonds soak for about 8-9 hours. (Soak them at night, it's OK) Next is, drain the water, and peel the skin off and keep them in a safe place. Also remember, that soaked almonds will keep your heart healthy.
Benefits Of Almonds – So, don't forget to soak them in water.