Cringe worthy things on Gucci runway – Gucci is the Italian luxury brand for fashion and leather goods which, like every other A list fashion brands, Gucci too organizes shows every year and this year's show was a tad off beat. If you cotton to supernatural and everything that unnerves your psyche then you need to see what Gucci has in the offing.
During Milan fashion week, Gucci really rocked the boat to show that fashion can also be nightmarish. With those extra eyes appearing on hands and heads, it was really something not run-of-the-mill. In an old fashioned operating theatre, these kickass fall trends grabbed eyeballs.
Previously, Gucci was blamed for culturally appropriating Sikh turbans. It drew winds of dissent and now this. Seems like Gucci really likes to go off the beaten road.
Cringe worthy things on Gucci runway –
This model has a third eye in the forehead with some seriously impressive make-up created using mascara, prosthetics, fake eyelashes and glue. Everything aside, the third eye takes away the cake as that is not, from any which angle, heart-warming. This third eye on her forehead with some extra eyes on her hand reminds us of our mundane, opening eyes to for better perspectives.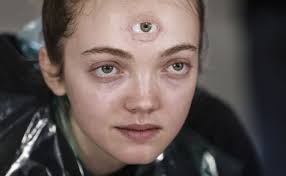 Now if the Pari trailer shook you out of your reverie then have a look at these models carrying their severed heads in their hands a fair chance. The heads were made with prosthetic heads which were replicas of their own noggins. This one really made us roll out our eyes in the fall/winter collection fashion show.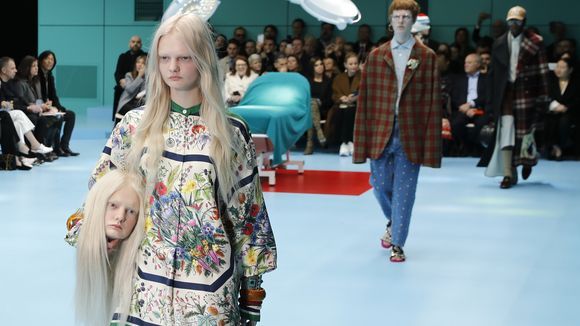 Of course, heads were the strangest props to be carried and  then there were dragons that the models carried along too symbolizing the darker impulses of fashion. This model is seen holding the dragon to her bosom and walking through the runway is downright gory.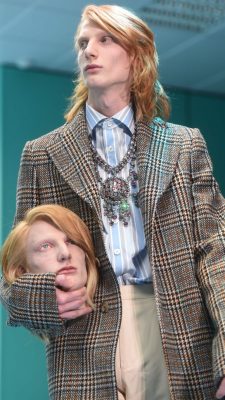 The designers didn't only stop here, they also incorporated some chameleons and snakes with the outfits worn by the models. Want to know about another path-breaking fashion statement? The answer is Centaur horns which were worn in the forehead of a model. And the house Stark fans, there is something that would catch your fancy too, the severed Sigil head pendants worn by the model.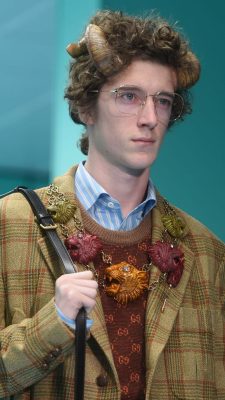 The bespoke special effects were created with the help of a factory of a factory of techno artisans which actually took six long months to create, Vogue reported. The heads had to be put through moulds, 3-D paints and head scans.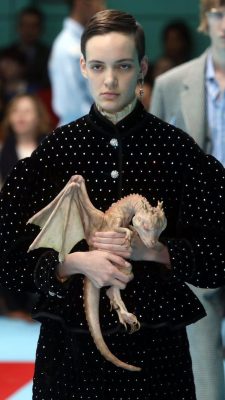 These are Cringe worthy things on Gucci runway – Seems like designer Alessandro Michele worked really hard to make this runway show appear rather creepy to us.