Let the culinary delights of contemporary Bengal cuisine take over your senses. Savour its gastronomic experience that is sure to send you in raptures.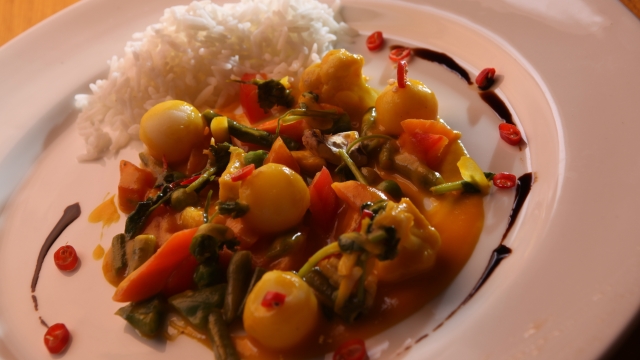 Vegetable melange with spicy alphonso
By Sujata Dugar
Does a purist shudder at the thought of having his good old bhetki fish served with topa kul (Bengal berry) sauce? Or, the panchphoron — the Bengali five-spice mix that is used for tempering most Bengali dishes, being used to prepare a mousse made of chhana (cottage cheese)? Or, like Tagore, their legendary daab chingri becoming an inspiration for a mustard and tender coconut mousse! If you think they must be balking at its very thought, let me tell you that the answer is far from it. A quick glance at the large families queuing outside Bohemian, the contemporary Bengal cuisine restaurant in Kolkata, will drive home this point.
Located in a quaint bylane in south Kolkata, the 30-seater restaurant has been a favourite of both the purists and the young ones alike, ever since it opened its doors in June 2010. Its winning dishes – Chili Pickle n Cheese Baked Crab with Kolmi greens, Panchphoron flavoured Chicken Escallops, and Mustard and Tender Coconut Mousse made with an unusual combination of tender coconut cream and mustard, have proven to be crowd-pullers indeed.
"The Bengal cuisine is a melting pot of various cultures and carries the influence of British, Portuguese, Dutch and French tastes. Despite its rich heritage and distinct flavours, its reach has remained confined to Bengal and its homes and has not been commercially successful," cites chef Joymalya Banerjee, owner of Bohemian. Reason enough that prompted him to open a restaurant that takes this cuisine to a wider palate. And it has done so quite successful in a short span of two years. Chef Banerjee proudly points out that catering to the tastebuds of customers aged between 17 to 75 years and reaching out to a wide socio-economic background are his twin achievements since he opened this restaurant. Bohemian's food has indeed been a binding factor. For, it has brought loyalists who step out of their Bentleys and even those who come meandering their way in an auto rickshaw, to savour the traditional delights with a twist.
"I use Bengali spices as my core ingredient but use the Western style of cooking to give the dishes a contemporary look," explains Banerjee. For instance, the mustard and tender coconut mousse has mustard as its main spice and it is prepared like a mousse. Same with bhetki fish. It is pan-braised unlike the traditional frying method but it is served with the very traditional Bengali Aam Adaa sauce (mango and ginger reduction). Banjeree believes in building on tradition rather than clinging on them. Hence the focus is on sprucing up traditional dishes to bring in both the young ones and the converts.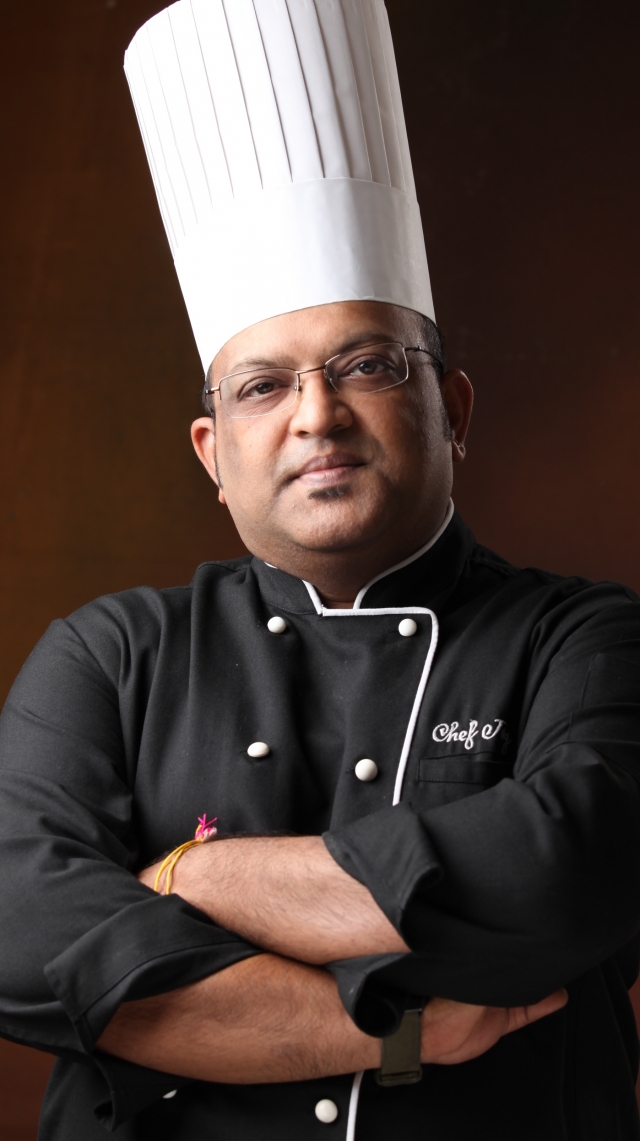 Chef Joymalya Banerjee, owner, Bohemian
He vehemently refutes all those who mention his preparations as "fusion food." "You can do fusion only when you know the grammar well. I do not know Bengali or western methods of cooking so well that I will be able to amalgamate both and create something novel," states this bohemian Bengali whose career graph includes a long stint with Oh! Calcutta, a chain of restaurants, famous for serving traditional Bengali cuisine.
With Bohemian having gone on to win all the prominent food awards and topping the list of restaurants in Tripadvisor's Kolkata section, chef Banerjee sure knows how to make his pudding and eat it too.
Top 10:
1) Panchphoron Flavoured Chicken Escallops
2) Spicy grilled Bhetki with Radhuni enriched curry sauce and served with wilted greens and steamed rice
3) Panchphoron flavoured Parshe with smoked green chilli sauce served with tossed vegetables and preserved lemon rice
4) Steamed Bhetki with Pickled Chili and Cheese
5) Prawns stewed with spicy Alphonso cream served with tossed vegetables and steamed rice
6) Royal Bengal Roast Mutton with Bhuna sauce served with tossed vegetables, mashed potato and rolls
7) Malpua Cheese Cake: Star anise flavoured chhana cheesecake, inter layered with traditional soft malpuas
8) Yoghurt and Kalojeere Brulee: Sweetened yoghurt crème brulee enhanced with Nigella seeds, with a burnt sugar crust
9) Gondhoraj Soufflé: Creamy soufflé flavoured with fragrant Gondhoraj, the king of lime, found in Bengal
10) Gondhoraj Julep: a cold beverage made with a mix of Gondhoraj lime, coriander leaves and lemonade
Address:
32/4, Old Ballygunge 1st Lane
Kolkata