Durga Puja is the most happening festival for Bongs throughout the country which can be sensed with endless events, food and fun happening across the pandals.
It not only brings the city of Kolkata to halt, but it is the most awaited carnival for all the Bengalis across the world. Bongs have been waiting to meet their universal Ma, whom they welcome with lots of Dhaaks, Dhunuchi naach, prayers and many more things.
Regardless of caste, age and class, the fever of Durga Puja grips every heart in the city.
Because Durga Puja is around the corner, here we would mention you some things that capture the perfect emotions of Bongs during the Durga Puja.
Enjoying the Dhak, Dhunuchi naach and mild fragrance of shiuli
Enduring the sound of Dhak along with Dhunuchi dance just before offering Bhog to Ma Durga gives a familiar tug to every Bengali heart. Dhunuchi naach is basically an inherited form of dance which is performed using burning clay lamps in front of Goddess Durga. Dhunuchi naach is an important ritual during Durga Puja and is not just a form of dance.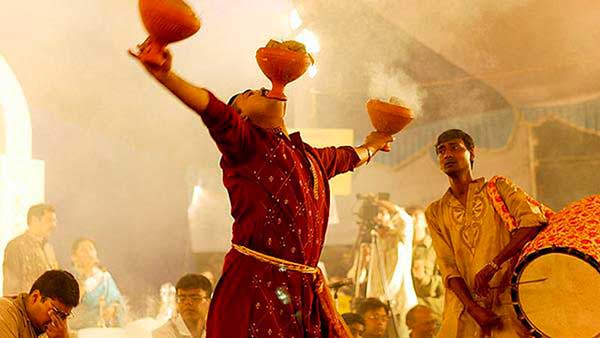 Forget our Maach Bhaat but love the traditional Bhoger Khichudi
When it comes to Bengali's, there is a common myth that we cherish dining on rice and fish throughout the year. Although rice and fish hold a special place in our hearts, we love to gorge on Bhoger Khichudi during Durga Puja. Khichudi with some tomato chutney, labda, and Rosogolla forms to be the best feast of the year.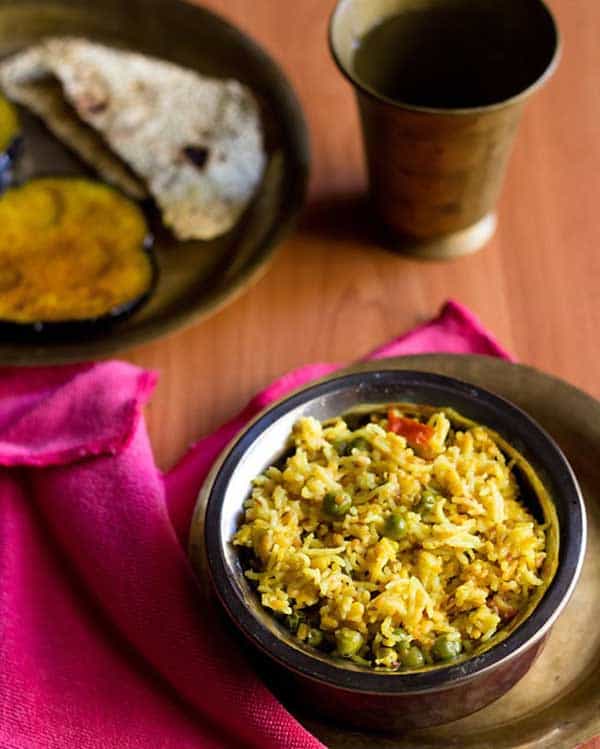 Pandals forms to be the most spectacular thing you have ever seen
Not only Bengali's but even Non- Bengali's wait for Durga Puja, in order to experience the joy of hopping from one pandal to another. Because Ma Durga is arriving, practically every locality has come up with pandals in their own style. With so many lights, decoration and giant idols, everything seems to be perfect.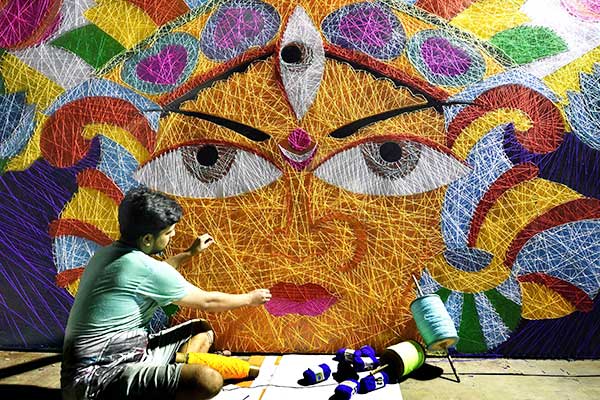 Magnificent idols of Durga Puja is sumptuous
There is no denying fact that Durga Ma Bhakts literally shed their tears in front of the Goddess. From award winning Durga Ma idols to innovative designs of pandals and creative themes, watching the magnanimous idols of Durga Puja is a pleasant sight for your sore eyes. The city welcomes Durga Ma along with mighty demon Mahishasura with open arms and hearts filled with lots of love and sentiments.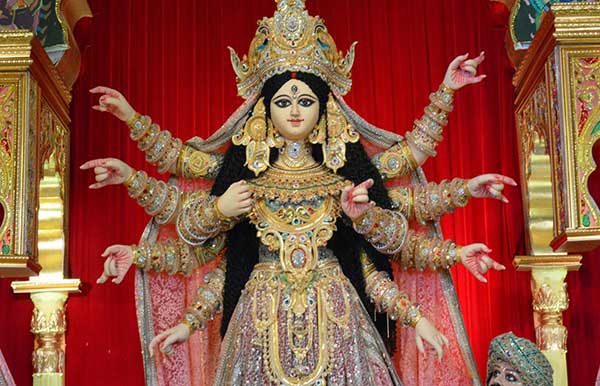 Mouth watering delicacies
As Durga Puja arrives, the city awakes with a new level of enthusiasm and delight! Sumptuous idols, the sound of dhaak, legendary Bhog aren't enough describing Durga Puja. Durga Puja is also much like a 4-day open food festival with a large variety of food served every day. From chops, cutlets, Calcutta Kathi rolls to biryani and chicken curries, everything is just classic when Ma arrives in the city. Yes, even the taste buds are happy!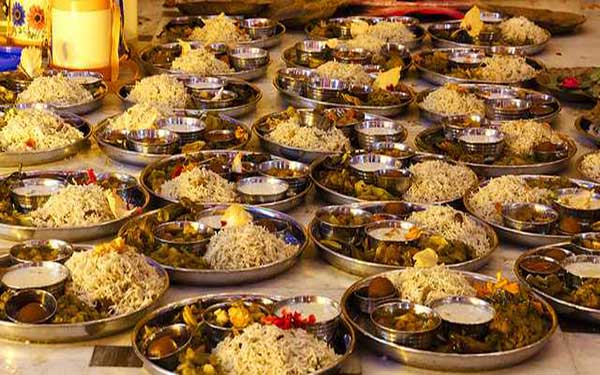 Waiting impatiently
The zest for this festival is so deep that Ma Durga Bhakts don't mind standing throughout the day in a long queue. No matter how big the pandal is, how much the traffic is or how crowded the street is, we love to wait patiently to get a glimpse of Goddess Durga.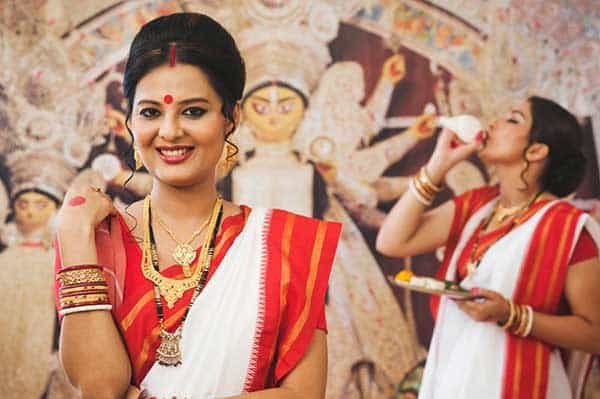 Get to soak in some culture
A series of puja is performed every day at the Puja Mandal. As usual, a Bengali starts his day giving Pushpanjali during Durga Puja which is all about chanting in front of Ma and offering flowers.  The evening ritual consists of Dhunuchi dance which is performed in order to impress the universal God. Finally, Dashami is the last day of Durga Puja where women's bid goodbye to Ma Durga with the Sindoor Khela ritual and Dhak's final beat.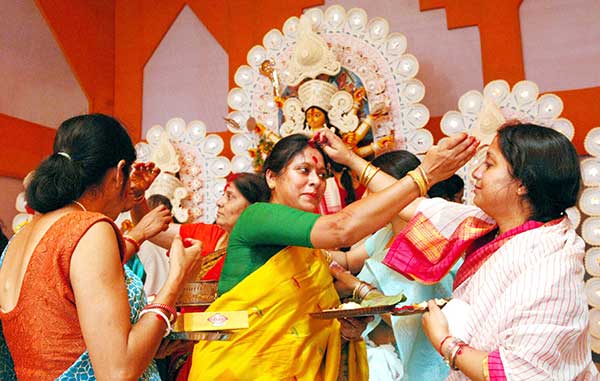 Durga Puja comes with a sudden rush of liveliness in every Bengali's heart! Ma arrives and goes in a span of 4 days and it is all too much for you! Bolo Durga Maa ki, Jai!