Guy Hilariously Edit Pics – Do you FIND it hard to edit your pictures? Oh well, then that's completely okay. You know; there's a guy who can help you with it. Yes, James Fridman, a talented graphic designer and a Photoshop expert can edit your picture for free.
Now, isn't that something really, really good? I mean, you save money and your picture is edited too. But hey, the only thing here is, that it won't be edited the way you think it should be. For e.g. IF you ask him something like this, then here's what you'll get.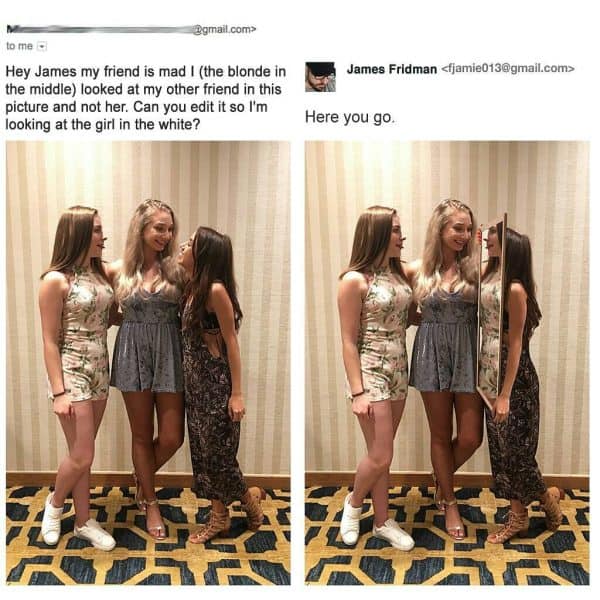 Impressed? You know; actually he is very hilarious. James has total 1.1 Million Followers on Instagram and guess what; he is NOT following anyone. The main reason "James Fridman" has so many Followers is because the way he thinks a picture can be edited is mind-blowing and obviously, hilarious.
Other than that; BEFORE you send him any pictures, you need to be aware of his terms and conditions.
According to his Instagram bio, his condition is "Do not submit any personal photos that you do not want to be made public." Plus, the best thing is, even though he edits pictures in a completely hilarious way, the message that he tends to send is "You don't need any editing because you're BEAUTIFUL just the way you are."
The editing done by him is to make others laugh and have a good time.
So, here are the pictures edited by him and I'm sure that they'll make you FOLLOW him on Instagram.
Now it doesn't look like she's proposing, right? LOL!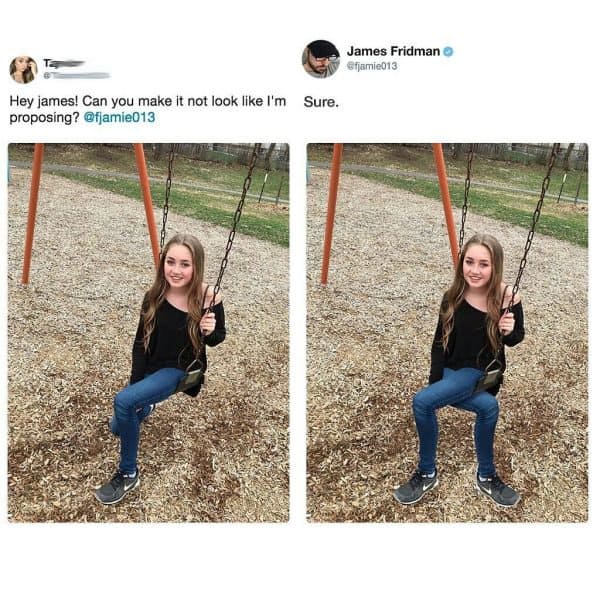 Not a child anymore 🙂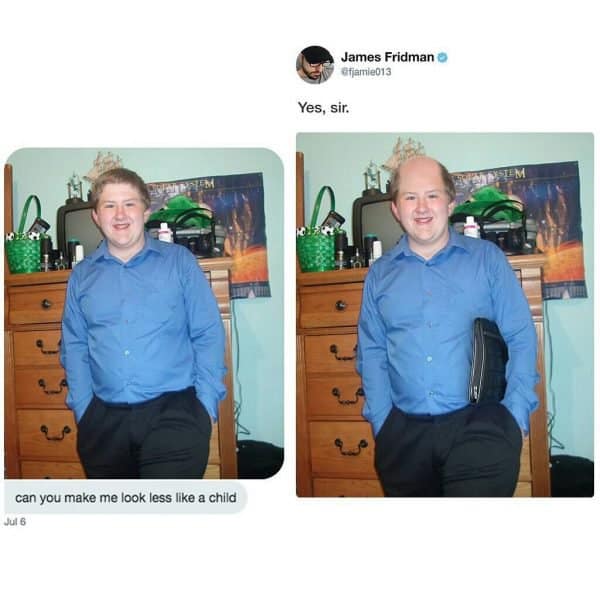 Smart!!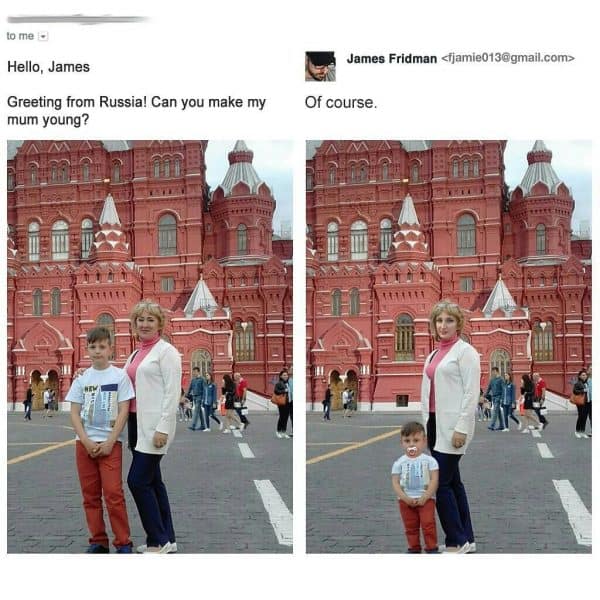 When you see it – LOL!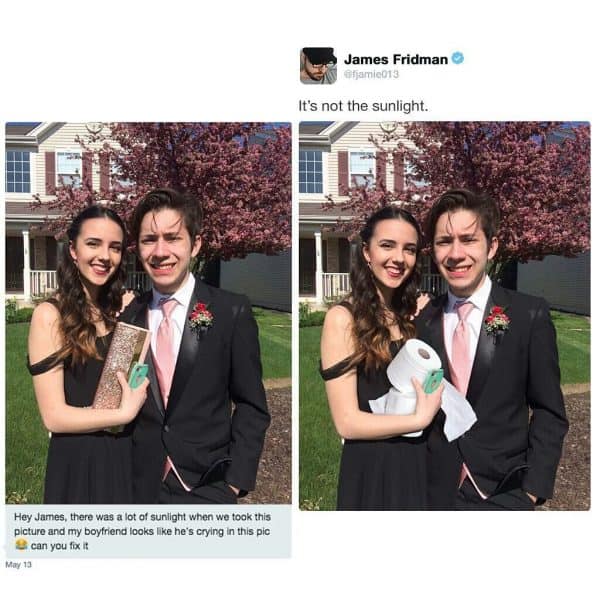 It's just that you "Friendzoned" him.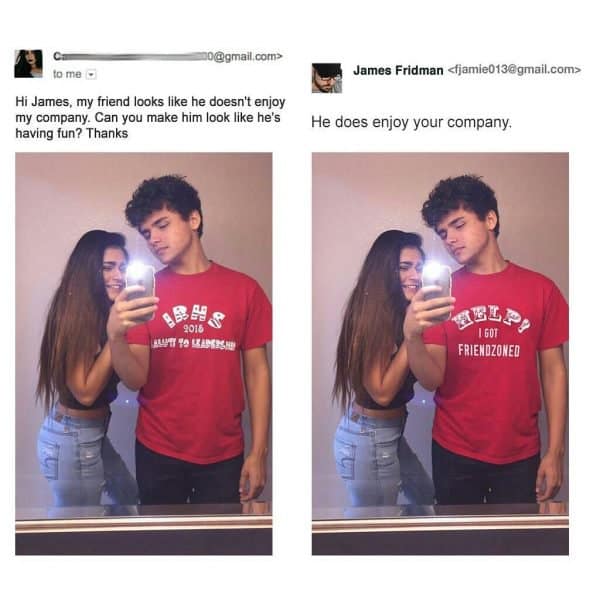 Look closer, they're holding hands.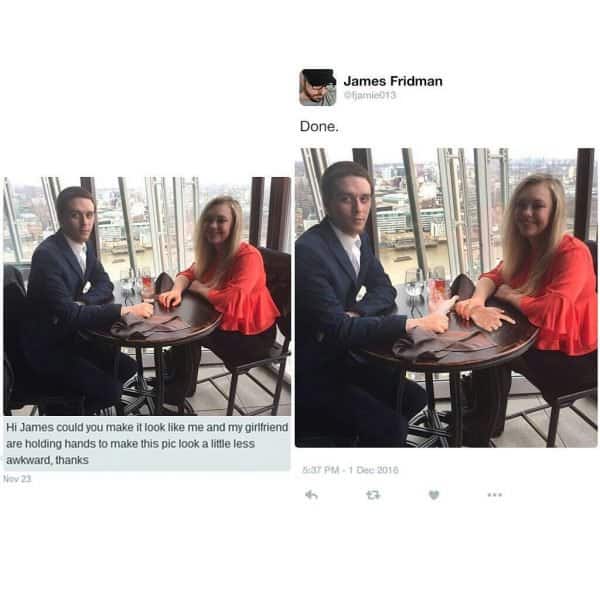 BE HEALTHY AND BE YOURSELF – Now, that' what I was talking about.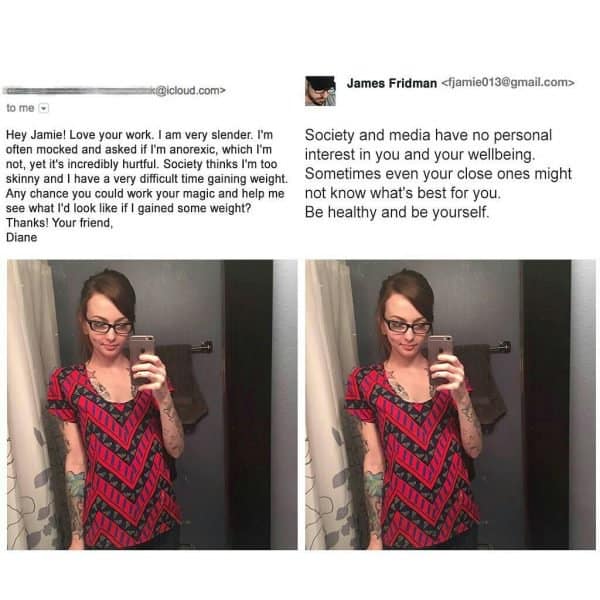 Guy Hilariously Edit Pics : Are you thinking to FOLLOW him? Just do it here.