Kylie Jenner owns every Halloween look with her out-of-the-box appearances and this year too she did something that turned heads.
All of 21, Kylie Jenner made quite a killing and became the Lip-Kit Mogul who took to Instagram on Oct. 31 to give us glimpses of probably her best costume so far. The concerned photo was taken by Greg Swales where Kylie poses as a frozen doll in a plastic box that reads Barbie in the bottom. The magenta bodysuit that Kylie was wearing accompanied by the circled necklace with curly blonde hair resembled the famous Barbie doll all right.
She captioned the picture, "Life is plastic, it is fantastic" and the line is an excerpt form the superhit song from Aqua that was released in the year 1997, 'Barbie Doll'.
In another photo, Kylie was seen again posing in a plastic box with her hands up in the air giving us an impression that she is stuck behind a plastic wall. The photoshoot and the costume resonated with the 'Barbie Doll' theme and the teens will definitely go bananas over it. To oomph up things, she shared the picture in her Instagram handle captioning it 'Come on Barbie, let's go party'. There were two costumes back to back that Kylie had sported and the second one was a mini floral dress with a long blonde wig. Kylie chose a car as a prop to pose for the next photo which too came out pretty well.
Kylie Jenner looked nothing short of a Barbie doll in both her photos. She didn't forget to give us, her fans a sneak peek into her Halloween look for the year 2018 through her Instagram handle.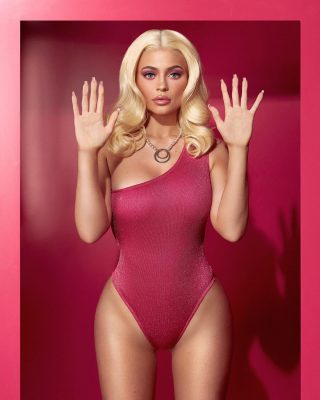 The first magenta costume was prepared by stylist Bryan Hearns who worked hand in hand with Kylie's stylist Jill Jacobs to make this dream come alive. Kylie, with her confident air in posing, perfectly resembled the iconic doll in both the photos. Kylie was high on the spooky spirit as she posted a picture with her daughter lately in similar butterfly costumes in Instagram. Her daughter Stormi Webster who is 18 months old, celebrated her first Halloween with mommy looking downright adorbs in matching outfits. Her mom also shared some cute pictures of her in a fun holiday.
It was in October 29, Kylie Jenner shared different photos of her and the baby in different outfits among which one was with the butterfly outfit. In both the photos, Stormi was seen sitting smilingly in her mother's lap and Kylie captioned the image as ' my baby butterfly' which stole our hearts instantaneously.
We are waiting with bated breath to see more photos of Kylie Jenner as there is only a few days left for Halloween.