Sonali Bendre has been recently diagnosed with Cancer and the media is keeping a weather eye on every phase of her fight against it.
Cancer is a life-threatening disease which has claimed life of many commoners and celebrities alike because there have been no infallible cure has been brought to the fore by the scientists but it makes people unsnarl from society and wait for death, which is emotionally exhausting and synonymous to dying everyday. Not only that, the family of the patient too go through a trying time because of the extortionate treatments and seeing their most loved one succumbing to death imperceptibly.
But Sonali Bendre is a cut from a different cloth. She is not any likely to give up on her smile, peace of mind in the onset of cancer however damning the strain of despair is. It is not an unprecedented phenomena of a celebrity cannoning into cancer because there have been the likes of Lisa Ray and Manisha Koirala who has been lately fell prey to this disease but survived. Their lives became an example how a human clings on to the last straw called life at the face of death.
However, Sonali Bendre's cancer news pierced our hearts like a spear in the same way as Irfan Khan's cancer news. Sonali is afflicted with Metastic cancer and she is fighting it like a boss.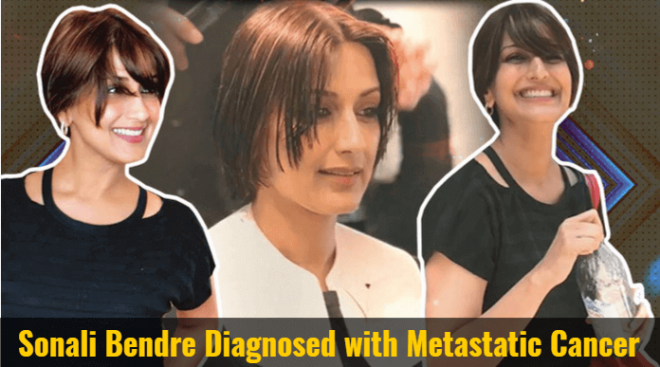 Sonali revealed about her advanced stage of cancer through an Instagram post and biggies from Bollywood poured their love for her and we too wish her speedy recovery. Sonali's constant support is her producer husband and she also revealed how her son dealt with the news of her cancer, that he took it very maturely. We presume it is not easy for Sonali, one once queen of silver screen to deal with the curve ball that life threw at her. Cancer not only plagues your body bit by bit but your mind too and saddles your heart with grief. Sonali but seems completely in her jovial elements and keeping her fans on the loop by posting successive pictures about how she is fighting her cancer.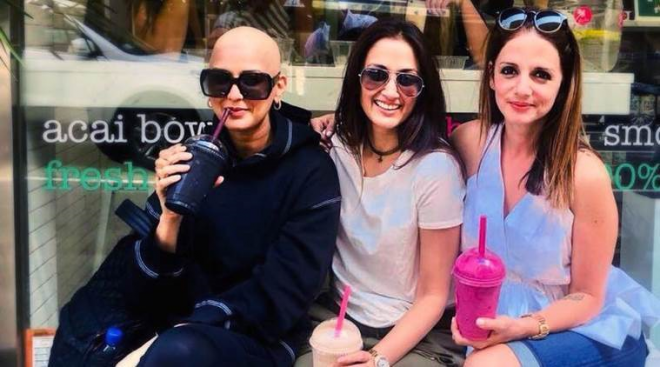 When the patient reaches the advanced stage of cancer, they are put through chemotherapy to simmer down the cancer virus and Sonali too is going through that.
She started her fight with chopping off her long tresses and shared the experience with her fans through a video where she was seen to sit in a salon and a hairstylist doing that for her. Later on, there was a picture of her husband, Goldie Behl kissing her on the forehead as a testimony for his love and standing as a rock by her. What more one can ask for from life when one has such a loving husband and a matured son?
Not long ago, Sonali's friendship day post has raised her respect in our eyes when she appeared in a photo with a bald head flanked by Susanne Khan where she used the hashtag #baldisbeautiful.
Time and again, Sonali Bendre proved that admitting defeat to hardships is not life, fighting it back is because one must wait to see the light at the end of the tunnel.