Anyone can get photographed with a public personality and that cannot be held against him.
The Congress party is back to its cheap tricks. In what seems to be an attempt to divert attention from the 'national' son-in-law Robert Vadra, the party on Monday released a video purportedly showing BJP PM nominee Narendra Modi in pictures with one Afroz Fatta arrested in connection with a Rs. 1000 crore hawala racket. The party also dared Modi to submit himself to an independent probe.
The photo-op which Congress released although does not prove anything, the party, however, claimed that Fatta is a "well known BJP supporter and a protege of Modi".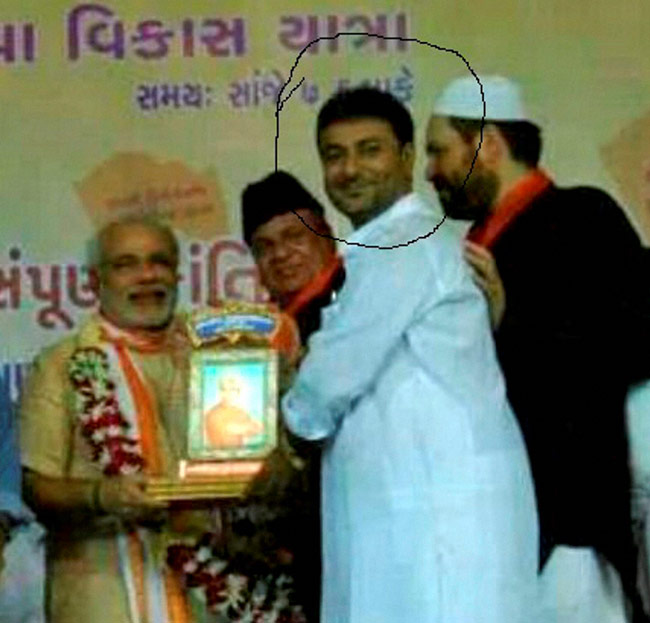 Party spokesman Randeep Surjewala told reporters that Fatta was arrested by the Enforcement Directorate of Ahmedabad and Surat which unearthed a major hawala racket after carrying out a raid at his residence.
But its antics boomeranged when, shortly after the Congress charge, Modi's close confidante AmitShah tweeted a picture of Congress MP Mohd Azharuddin purportedly seen with Fatta.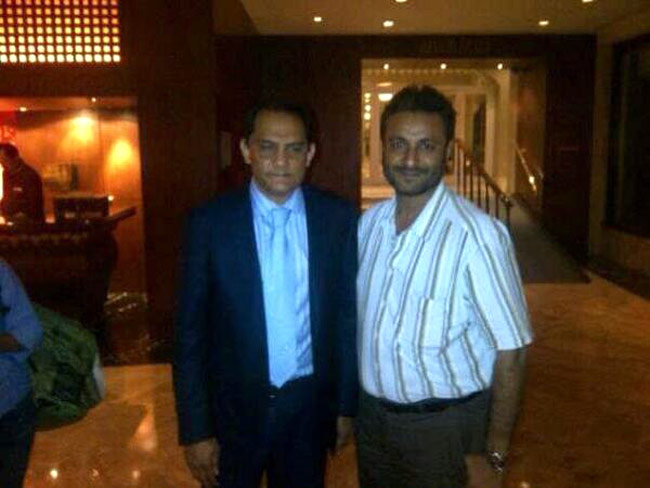 Reacting to the Congress attack, BJP spokesperson Meenakshi Lekhi said while the party would give a detailed reaction later she sought to dismiss it saying anyone can get photographed with a public personality and that cannot be held against him.
The attack on Modi by Congress comes a day after the Bp released a video on Vadra's alleged land deals. The party has also asked few questions regarding Vadra in a scathing attack on Congress which the latter is yet to respond to.
The questions were:
With a cash & bank balance of Rs. 1 lakh, how was cheque no. 607251 for Rs. 7.5 crores issued by M/s Skylight Hospitality to M/s Onkareshwar Properties on 9.2.2008? Who paid the Rs. 45 lakhs in cash towards stamp duty on 12.02.2008?
Whether the cheque no. 607251 belonged to Skylight Hospitality and whether the cheque was presented to the bank for encashment?
Who are the beneficial owners of M/s Onkareshwar Properties? What was the quid pro quo for the sweetheart deal with M/s Skylight Hospitality?
What was the real purpose of M/s DLF Retail Developers when it paid M/s Skylight Hospitality advances of Rs 6.5 crores on 05.06.2008, Rs. 1 crore on 10.06.2008 and Rs. 0.55 crore on 12.06.2008? Were the purposes of these advances changed at a later date?
Was the payment of Rs. 7.95 crores (Rs 7.5 crores towards cost of land and Rs 45 lakhs towards stamp duty) not paid to M/s Onkareshwar Properties on 09.08.2008 vide cheque no. 978951 after receiving advances from DLF as above?
What assessment was made of the technical and financial capacity or intent of M/s Skylight Hospitality to develop over two lakhs square feet of commercial complex before issuing the LOI in a hurry within 18 days of the application on 28.03.2008?
A Collaboration Agreement dated 5.8.2008 was entered into between M/s Skylight Hospitality and M/s DLF Retail Developers to develop a commercial complex at the site. Why was an unregistered agreement entertained by the licensing authority against the provisions of the Registration Act leading to loss of crores of State revenues?
Why was the commercial colony license granted in favour of M/s Skylight Hospitality when it was clear in the application for grant of license and other correspondence that the actual developer would be M/s DLF Retail Developers (renamed DLF Universal)?
When M/s Skylight Hospitality had already entered into an agreement to sell the land against which Rs. 50 crores was received as advance against sale and possession of the land was handed over to M/s DLF, why was the commercial colony license renewed in favour of M/s Skylight Hospitality on 18.01.2011?
Under what statute is the colony license permitted to be transferred and sold?
The transfer of the land was completed before August, 2008 as per section 2 (47) (v) of the Income Tax Act, 1961. Was tax paid by M/s Skylight Hospitality in the AY 2009-10 (FY 2008-09) on the short term capital gains of Rs. 50 crores which accrued to the company and if not, what penalty proceedings have been initiated against the company by the Income Tax authorities?
Do Mr. Rahul Gandhi and Mrs. Sonia Gandhi support the business model of Mr. Robert Vadra? The business model of Mr. Robert Vadra is kleptocratic rentiering from the discretionary licensing and change in land use permissions of the government.
What went behind the scuttling of the thematic audit, "Issue of licenses for development of colonies etc. after release of land" in Haryana by the Comptroller and Auditor General on 3rd June, 2013?
Till now, the opponents of BJP – Congress and AAP – have been harping on such antics to divert attention of the people from the real issue. Making personal attacks on Modi, questioning his marital status, unnecessarily dragging industrial families like that of Ambani and Adani and linking them with the leader – all have collapsed.
They have far grave charges on their head and their actions too have spoken against the democratic fabric of the country. The Congress party directly communalizes the political discourse and the AAP follows the same. Congress leaders are clinging to what little they are left with and AAP members are leaving the wagon gradually and steadily every day.
Yet the two political parties choose to ignore the facts and keep on misguiding the public. But little do they know that public is not easy to be fooled.
P.S. According to a latest report by India Today, ED has said that Narendra Modi has "no direct or indirect connection with Fatta".