Tech Giant Infosys CEO Vishal Sikka has gifted iPhone 6 to 3000 top performing employees! Reports are that this move has come, keeping in mind the high attrition rate of Infosys.
If you were gifted an iPhone 6 or a holiday package to your international dream destination or gym membership by your employer, would you still be more loyal to your girlfriend/boyfriend and bunk office to meet her/him?
No, right?
If you are still finding it an exaggeration, then let me tell you this:
Tech Giant Infosys CEO Vishal Sikka has gifted iPhone 6 to 3000 top performing employees! Reports are that this move has come, keeping in mind the high attrition rate of Infosys. (20.1% in the July- September quarter)
The year that passed by saw tremendous changes in the company with even retired NR Murthy called to reinvigorate the falling empire of the 8 billion dollar enterprise that Infosys is and former CEO SD Shibulal stepping down from his position to finally make way for Sikka to come and reign the company to bring it back to its previous glory.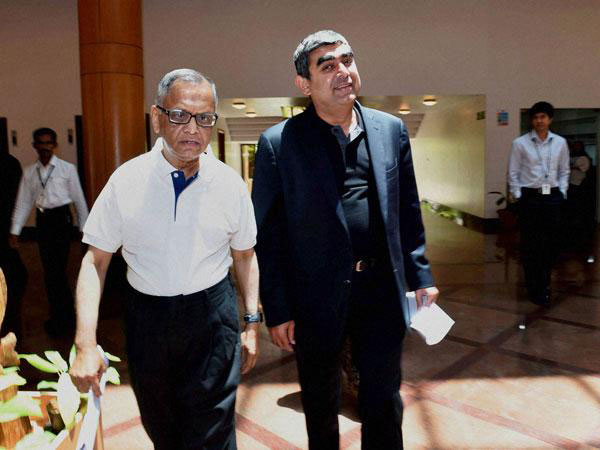 It seems Sikka is playing a pivotal role in the transformation of the people and the processes by not only playing the happy Santa Claus for his employees but also declaring a 100 percent bonus to 1.65 lakh (the total count of people working with Infosys currently) employees for the December quarter and recognizing its people's efforts in the growth of the company.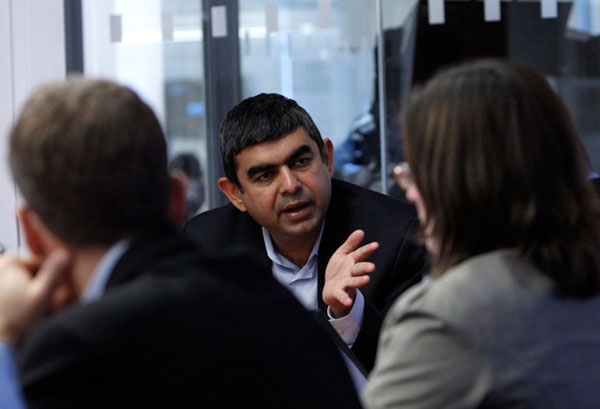 He has transcended the usual employer-employee bond and understanding and made the whole encounter a more engaging, free, friendly and interactive one. Not only did he address the top employees as 'friends' in his Thank You Mail after gifting them the iPhones, but also introduced changes and evolved some processes such as quarterly promotions, conversion of variable pay to fixed pay and involving more number of employees in the problem-solving and decision-making processes of the company.
Male employees of Infosys are happy that the dress code is now more relaxing and they only have to wear ties once a week! Reward and recognition seems to be high on the priority list of the CEO as he has streamlined internal processes, made Internet readily available and easily accessible for all employees across different profiles and even increased the amount set for team awards. Apparently, he also persuaded people putting down their papers in the company to stay back and even asked some former employees to join back Infosys.
While Sikka, the new Santa Claus of Infosys, expressed his appreciation of and happiness at the considerably good performance of some employees, writing these lines in the mail,
"Infosys had taken your boundless energy and extraordinary effort. And I believe it's not enough that we simply recognize it, we must celebrate it. That's why I am so happy that we are presenting you with a Holiday Bonus – the cool new Apple iPhone 6. A gift that'll always remind you and your teammates of the exceptional value you delivered for Infosys," the employees are taken aback by this gesture and some of them have resorted to Twitter to express their joys and surprise:
Finally got recognised @Infosys thanks for iPhone 6 @vsikka

— shirish shukla (@shirishs00) January 6, 2015
Recognised and got an iPhone 6 from the CEO. Feeling awesome 😀 Thank you @Infosys @vsikka #iPhone6

— Stalliano (@Abhi_Hansolo) January 6, 2015
Since there are many IT companies booming now-a-days, corporates of HCL made 130 of its employees have the opportunity to drive home Mercedes or go on a holiday spree with their families to a domestic or international trip for which the company will seek to bear all expenses. There were 70 of these people who actually won the Mercedes in 2013 for exceptional performances. Owning a company owned flat and cars or jewellery apart from discount vouchers for offline as well as online shopping, all are common tokens of appreciation that the companies are dolling out these days for increasing retention rates.
Some companies also choose to offer benefits such as mediclaim policies, dental insurance, retirement benefits, tuition fee and training benefits, child care policies, annual leaves or flexible leave systems, etc.
These policies and benefits are not only helpful in lowering the attrition rates but also make the employees have a healthy work-life balance so that they can be more productive and energetic at work.
Genpact, the business process outsourcing company also has launched this process where the employees can opt to go on a sabbatical whether for learning new skills and techniques or pursuing higher studies. Even Apollo Munich Health Insurance has come up with a system called 'leave bank' where co-workers can get leaves for emergency situations as some employees donate leaves to the bank. Must say, nice technique to create a bond between the employees and integrate the whole team into a unit with mutual benefits for all the employees as well as the company itself.
We say that these tangible and intangible ways of performance appraisals and bonuses along with increased pay packages are sure shot ways to strike a bond with an employee and retain him/her in the company for a long term.