Career as a scuba diving instructor – the world of Scuba Diving gives you the option of having recreational diving excursions at resorts, owning a scuba equipment store and assisting marine researchers
Do you find yourself dreaming of going underwater in the aquamarine waters of the Arabian Sea or Pattaya in Thailand?
Have you ever wondered about life in the oceanic realms with its immaculate freshness and pure silence and enjoyed thinking about exploring the little sounds of fishes and relaxing yourself in the calmness of the whole situation?
You may now not only think about it but do it as well. Yes! Being a scuba diving instructor can let you explore the marine world in all its beauty and glory.
Scuba meaning 'self-contained underwater breathing apparatus' has evolved and developed as an underwater sport and emerged as a multi-million dollar global industry. Scuba divers can choose to deep dive or cave dive and can also opt for parallel career options in oceanography, underwater archaeology and underwater photography.
If you have watched the movies, Zindagi Na Milegi Dobara and Blue, you will know which visual wonders of ocean I am describing and also the kind of lifestyle Scuba Divers have.
But, you need to be trained well to be a Scuba Diving Instructor and what better than joining training institutes that certify you as a scuba diver. Some of them are Scuba Schools International (SSI), Professional Association of Diving Instructors (PADI), British Sub-Aqua Club, (BSAC), Professional Diving Instructors Corporation (PDIC), Barefoot Scuba and Dive India in Andaman as well as Lacadives in Lakshwadeep. Dive schools – the likes of Andaman Bubbles and Barracuda Diving will provide you with a Masters' Degree only and not the certification. You can also opt for several Dive schools in Bangalore, Mumbai and Pune that will take you places across the world and may even offer you work opportunities.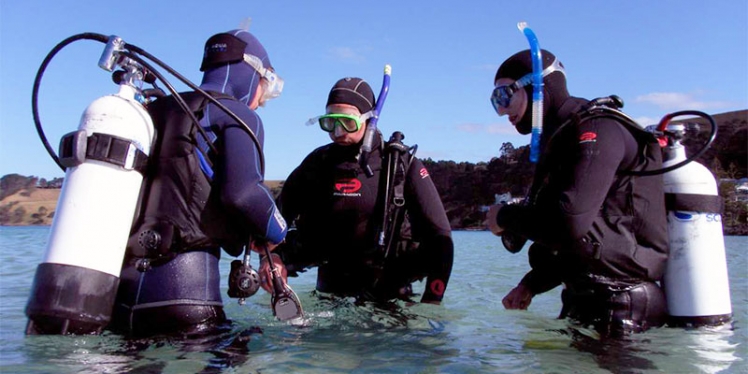 Scuba Divers should not only share a deep love for the oceans, but should also be comfortable and cosy underwater. Emergencies need to be tackled with much responsibility and care. You will need to be a patient teacher as many people suffer from aqua phobia – the fear of water. You will also be trained in Dive Schools to have a good understanding of how life underwater thrives and you can achieve a better relationship with the flora and fauna in the oceans while you are working as an instructor.
With Scuba Diving, the learning is endless and so are the possibilities.
You may choose to make scuba diving your seasonal or full-time career. Certain courses will help you hone your skills like the Open Water, Advanced Water, Rescue Diver and Dive Master Course. Open Water course enables you to learn the scuba fundamentals, different diving techniques and handling equipment. You will be then equipped enough to swim or float for ten minutes, set the limit for continuous swimming at 100 metres or even better, 300 metres. Your accomplices will be the snorkels and fins! You can enhance your diving skills and other water activities with Advanced Water Course or learn to prevent and handle dive-related accidents so that you can be prepared for any untoward incidents. You will be equipped through this course to give first aid and oxygen to an unconscious diver and locate any such diver in the wide ocean surface. If you opt for the Dive Master Course, you will be more prepared as a diving professional to handle boats, tie knots and guide certified drivers. Mapping routes underwater that you will get to learn through this course can also come handy during your real-time experience.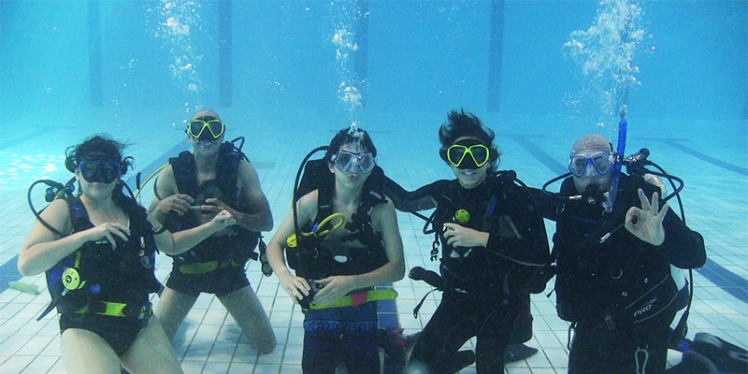 Scuba Diving is a lucrative career where, while a beginner dive master can earn about Rupees 15,000 per month, a beginner instructor gets Rupees 30,000 and an experienced instructor can earn Rupees 45,0000 approx. each month. Your daily expenses along with your accommodation may be paid for by the company you are working for. The perks of this job are not only monetary, but it can make you enjoy your time across the world and meet people from different cultures and ethnicities, while travelling to exotic places.
You though, should be ready to face weather challenges and strong water currents.
While India has the diving season for seven months of the year starting from October, countries like Carribean, Australia and Mexico offer all-year round scuba jobs. Now-a-days, some Diving resorts in India too need scuba divers all round the year.
So, if you do not want to follow the herd mentality of doing a 9-5 desk job, you must break from the career stereotypes of 'real jobs' and make your hobby of water sports your career. The job satisfaction along with the monetary gains cannot be ignored. A healthy lifestyle and pollution-free work environment are a plus!
Plunge into the water and make fishes your best buddies!