Motorcycles from car manufacturers – Car designers often dabble with their designing & technical skills at building motorcycles, and when they do, they create machines with style & panache.
Once in a while, high-end car manufacturers step into the world of two wheels and present some astounding prototypes for bike fanatics.
Either strapped to the back of a SUV or as a standalone motorcycle, these machines are truly awesome, exotic, and a treat to the eyes!
For an automobile enthusiast, it is an interesting to see how 4-wheeler brands perceive and envision the concept of 2-wheeled vehicles. In fact, the sight and feel of riding a motorcycle bearing the logo of a high-end car brand is a dream for many.
Below is an insight on some of the world's top-notch car makers and their first stint at motorcycles:
Lamborghini
Sporting an aluminium frame coupled with a Kawasaki engine, the Lamborghini Motorcycle hit the roads in mid-1980s. Designed by frame specialist Claude Fior, this realistic machine was a dream of the Mimran brothers, the then owners of Lamborghini.
Porsche
Based on the Yamaha SR500, the Porsche Alternative Motorrad Konzept looks swanky and classy. Unfortunately it doesn't score much ground in terms of practicality. Nevertheless, the company continued to contribute in the realm of two-wheels by assisting Harley Davidson on projects such as VR1000 racer and V-Rod.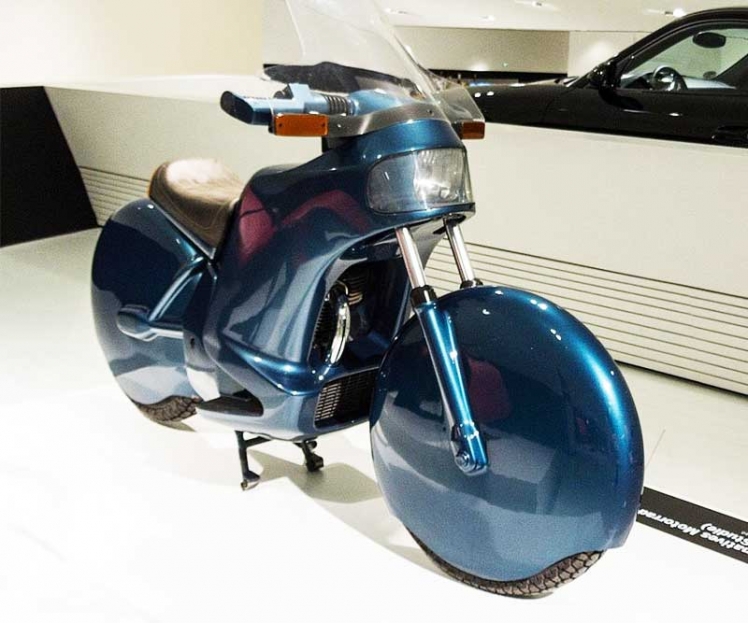 Audi
After purchasing Italian motorcycle company Ducati, Audi came up with Audi Motorrad, an 850 cc L-Twin cylinder engine coupled with dual-clutch transmission powers. Inspired by Ducati 848, this sleek & snazzy bike comes loaded with carbon fiber & light alloys that account for an uber light-weight machine.
Ferrari
The brainchild of Israeli designer Amir Glinik, the Ferrari V4 Motorcycle offers an inebriating mix of classic & modern Ferrari machines. Flaunting a highly curvaceous body, this 2-wheeled vehicle boasts of a v-4 cylinder, adjustable ride-height suspension, weather-proof touch screen display, dampening control, radial mounted discs on brakes, and much more.
Proton
Designed by Daniel Simon, the Lotus C-01 Motorcycle is the creation of Malaysian car manufacturing giant, Proton. This power-cruiser makes use of titanium & carbon fiber, a 200 HP KTM RC8 engine, hydraulic anti-hopping clutch, digitally adjustable ignition, and much more. Since its launch, this deadly bike has garnered much attention with thousands of sales enquiries scored by the company.
There is no denying that the above-mentioned motorcycles manufactured by car makers are a visual delight. Nevertheless, it is a challenging task for the manufacturers to bring such bikes to the production line.
We would like to ask our readers that if they ever got a chance to own a bike wearing a logo of their favorite car brand, which one will they like to have. Think about it and let us know your views by sharing them in the comments box below!