How often have you been fascinated by trendy helmets that most bikers wear? Well, Arai is here with a new, fashionable helmet for bikers with limited edition! Hurry!
If you are mentioning Joey Dunlop then the old school TT racing cannot lie far behind.
Joey Dunlop is the biggest icon associated with TT race wins at the Isle of Man TT as he is the record holder in this respect. He is also referred to as the King of the Mountain.
This season Arai came up with the innovative idea of re-introducing the helmet used by Joey Dunlop in the 1985 race. The manufacturing is however restricted at just 300 units. For bike riders who have a fetish for helmets, this news will sound quite interesting.
While Joey Dunlop is the master of the bike racing tracks, Arai is one of the most reputed manufacturers of helmets.
It is interesting to see the Japanese helmet giant offering a tribute in the memory of a legend, Dunlop. Till date, he is regarded as the best bike rider who had raced in the Isle of Man TT. The model of the new helmet is based on the Arai RX7-GP and the brand claims that these new helmets are the most authentic replica helmets that had been ever made of the Irish racer.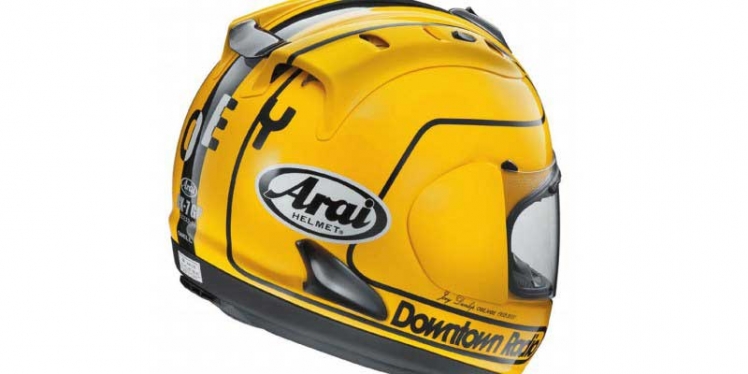 So what are the similarities that you will between the new helmet and that belonged to the legendary racer?
Well the first similarity would be the livery. The livery used by Joey Dunlop in the 1985 bike race at Isle of Man will be featured on this new model. As far as the colors are concerned, the "Joey 85", as they will be called, will be available in standard yellow and black shades. They would also have the DownTown Radio sponsor decals along with the logo of the station on their side.
In addition to this, Joey's widow, Linda Dunlop, will sign all the 300 units that will be produced by Arai. Linda Dunlop expressed her pleasure at such an initiative. According to her this is a great way of keeping the memory of the legend alive. She also thanked Northern Ireland Company Crossan's TheVisorShop.com for looking after the sales and mail order for the new helmets.
In order to maintain exclusivity, the new helmets will be only available for online purchase at "The Visorshop."
So order your piece today for Rs 71,500.