Sam Morrison, a 27-year-old photographer and an artist based out of Los Angeles has gone off the beaten track. He took a calculative risk to introduce Donald Trump's controversial tweets in his artwork and it hit the bull's eye. He made a huge business out of it and eventually became a millionaire. He even started an e-commerce website for the same, PresidentFlipFlops.com, back in 2017.
Remarkably, every pair of the flip-flops got across the buyers. You will be more surprised to know that Sam made these Flip-Flops in less than a month, according to a report by Tech Insider.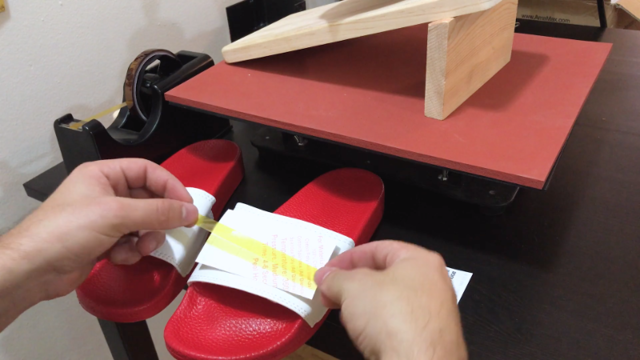 His designs are completely thought-provoking and bloggable. One must say. When he was in his high-school, he made silk-screen shirts and decks of cards that had secret compartments inside. Over the last several years though, he indulged in digital designing and suddenly the idea of preparing sandals with President's controversial tweets occurred to him.
Morrisson told Business Insider in an interview that one is sure to spot contradicting opinions if one scrolls through Donald Trump's 40,000 tweets. Morrison wanted to take a dig at this hypocrisy.
Previously, Morrisson worked in an advertising agency on a regular basis but he focussed on producing these flip-flops later. He channelled his own materials and took care to print and package every flip-flop by hand. He gave equal attention to every piece and his life turned around.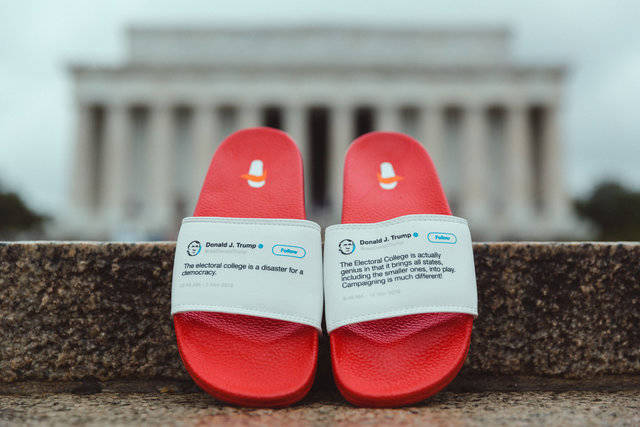 The distinct feature of these flip-flops is that there are different Tweets from the President on each foot. The sandals are made of rubber material and are limited-edition series of flip-flops that have President's controversial tweets emblazoned on the straps. President Trump have many a times fallen out of faour because of his controversial tweets ever since he became the President of The United States of America in November, 2016.
The Red rubber base and white straps make it appear more arresting. The quotes from specific topics with his mutually incompatible tweets on the left and right feet add up the zing!
In an interview with Dezeen, Morrison said, ""The only person Donald Trump listens to is Donald Trump. So the objective was to use his own words to turn him into his own worst critic." He further added that he wanted to highlight this hypocrisy.
You will be more amused to know that the flip-flops come in three different versions, relating to the US Electoral College, Syria and anonymous sources across the media.
Isn't the idea of logically contradicting tweets of President Trump adorning rubber-shoe sandal straps uncoventional?