Rumors about Shraddha Kapoor and Aditya Roy Kapoor going on a secret vacation are hot these days. Now whether it is true love or both are just trying to spend some private time, only time will tell.
Love needs expression!
In Bollywood, stars are expressing love all the time for silver-screen, but when it comes to their real lives, most are found lacking in time. So busy are they with their hectic schedules of shoots, promotions, events etc. that love takes a backseat. Or may be love goes out of the window with a new co-star entering the frame. Chemical reactions keep changing with different combinations available.
Lust of yesterday becomes love of today and then tomorrow that love is thrown in the dustbin of history for a new affair!
During such times when news, even if it is a rumor, comes that new love-birds on the block are planning a secret vacation, it is so very heartening.
We are talking about the Aashiqui2 couple, Shradhha Kapoor and Aditya Roy Kapoor! Both had a sizzling chemistry in their movie and since then they have been spotted on and off at various events and filmy parties, hand-in-hand, like a doting couple. So, we believed and still believe that the couple is definitely in deep love with each other. There can't be any other reason for them to plan a special time-off with each other.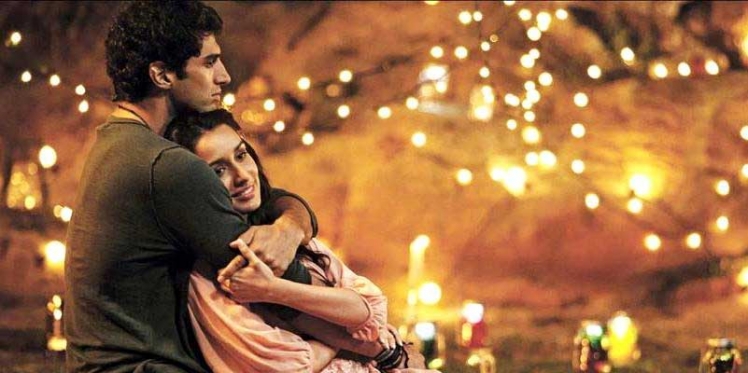 Hold on though, there is more to just-spending-time-with-each-other excuse. A report mentioned how recently Aditya and Siddharth Malhotra ignored each other at a party. Reason being Shraddha's alleged increasing closeness to Sidhharth, her co-star in next flick, Ek Villain! Guess what, Aditya got so insecure with the sizzling chemistry of his lady love with her on-screen lover that he even had a small tiff with Siddharth! Obviously, Shraddha had to cajole him and calm him down and what better way than to escape the prying eyes and go off-radar!
Of course, all such ugly fights can be resolved between the couples by some hot action in the bed. Right now, Shraddha is super busy with the promotions of her upcoming movie so they must have decided to go off to some secret location and vent off some heat! We are just saying you know. "winkwink"
Also, we are trying to show our faith in their love because ideally these stars try to stay in public sight when their movie is about to be released. In this case, only Shraddha needs that attention, Aditya doesn't have anything planned in near future. So why would he try to create smoke without fire, right? So it becomes obvious, their love is real and both are trying to mend some broken bridges with a few private moments which seem absolutely normal. Thankfully there are no broken noses or heads, else mending them wouldn't have been possible!
It is high time we leave these two hormonally charged-up lovers alone and just wish that their love passes the test of time and both enjoy the fruits of passion, of course, secretly!